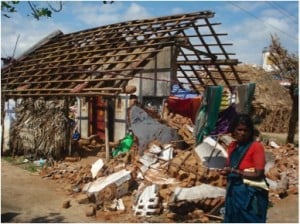 Reuters reported late last month that Cyclone Thane ripped through Tamil Nadu state in India, devastating communities up and down the coast. Winds at a speed of up to 83 mph and tidal surges of up to five feet forced about 6,000 coastal villagers to find their way to higher ground. So far 33 people have died, and since relief is scarce, it is expected that the death toll will continue to rise. Watch Reuters' brief video of the current situation here.
When I heard the news, I immediately reached out to AJWS's grantee partners in Tamil Nadu to make sure their communities were safe and to find out if they had any news from the ground about relief efforts.
I received an immediate response from Mr. Y. Siluvai Vasthian, executive director of Human Education and Action for Liberation Movement (HEAL Movement), which AJWS has funded since 2004's Indian Ocean Tsunami. HEAL Movement works with Dalits and other marginalized minorities in the coastal regions of Tamil Nadu to promote community organizing and revive traditional livelihoods that were destroyed by the tsunami, like agriculture, construction, weaving, pottery, beedi (tobacco leaf) rolling, seashell collection and cashew processing.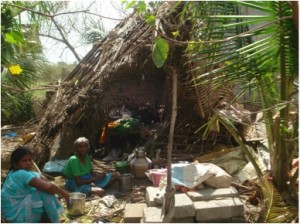 Mr. Vasthian told me that unlike the 2004 Tsunami, which struck only the coastal villages of Tamil Nadu, Cyclone Thane wreaked havoc in entire districts, and the damage is "extensive and unprecedented," leaving behind a clear train of "destruction and human suffering."
Thousands of people in Cuddalore district alone have been left homeless. Upwards of 10,000 electric poles have been uprooted, cutting off the power supply, restricting mobile phone communication and leaving almost no way to travel through the districts, straining the already limited relief efforts. Over 181,600 hectares of farmland has been destroyed (about 448,743 acres). Entire industries and farming upon which communities earned their livelihoods have again been destroyed, and now fishermen and farmers must rebuild their lives, piece by piece, once more.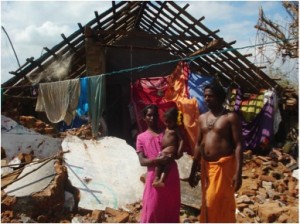 The government of India has drastically underestimated the impact of the cyclone, and the aid that it has supplied has been far too little to meet people's needs. HEAL Movement, along with Social Action Movement (SAM), a state-level network of 765 Tamil-Nadu based NGOs, wrote a memorandum to the local government asking for heightened and targeted relief efforts to affected districts.
Yet given the scope of the disaster, the State and Central government cannot undertake relief activities alone. The central and local government must officially declare the cyclone a "national disaster" in order to garner more aid from the national government and the international community.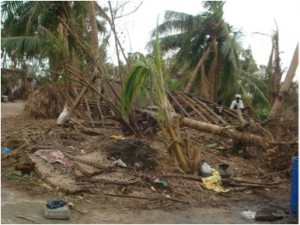 We must stand in solidarity with the people of Tamil Nadu. Please sign this petition to urge the Central and State Governments to declare Cyclone Thane a national disaster! The volume of aid needed for the relief and rehabilitation is beyond the capacity of the community and the local government.
This is one small way that we can really make a difference.