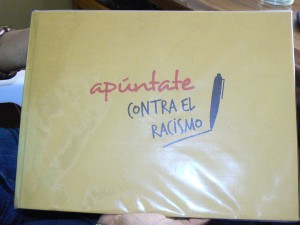 Great news in Peru! The Peruvian government just approved a new law against racist discourse in the media. The law was designed, promoted, and advocated for by AJWS's grantee Peruvian partner LUNDU Centro de Estudios y Promoción Afroperuanos (LUNDU Center for Afro-Peruvian Studies and Empowerment). LUNDU was able to garner support from a significant number of human rights organizations that pushed the Peruvian government to pass the law.
You might be wondering why this piece of legislation was needed in the first place. Let me explain: Peru's mainstream television comedy programs have frequently used ethnic, racial, misogynist and classist remarks to entertain Peruvian audiences. Two of the most popular television characters are "Negro Mama" and "Paisana Jacinta" that portray Afro-Peruvian men and Indigenous women in pejorative stereotypes. Negro Mama is a dim-witted delinquent whose motto is "Seré negrito, pero tengo mi cerebrito" ("I may be a little blackie, but I have my little brainy."). Both characters reinforce pervasive prejudices of Afro-descendant and Indigenous people in Peru. Their widespread popularity and the number of faithful viewers each Saturday night demonstrates how these stereotypes were broadly accepted.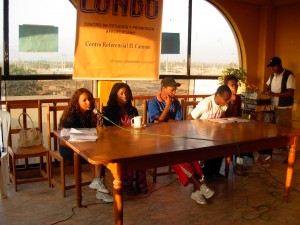 Thanks to LUNDU, Peru's socio-political climate is changing. Using art forms as a tool for social change, LUNDU has profoundly advanced the rights of Peru's Afro-descendant population, particularly the rights of Afro-descendant women and youth. Since 2007, LUNDU has successfully developed and implemented initiatives to challenge pervasive racism, sexism and systematic human rights violations against Afro-Peruvian women and youth. LUNDU has become a major voice in defending the rights of Afro-Peruvian population. In 2009, for example, a campaign against racism and sexism mainly led by LUNDU reached over 8,000 people and was featured in major media channels in Peru. LUNDU has created innovative programs that establish a permanent safe space for Afro-Peruvian youth in El Carmen to carry out peer education, leadership training and cultural activities.
Even though LUNDU has had many successes, structural expressions of racism are still firmly entrenched in Peruvian society. Afro-descendant and Afro-Peruvian communities—especially Afro-descendant women—experience racism on a regular basis. In response, LUNDU's support for a new generation of Afro-Peruvians to put an end to practices that reinforce and perpetuate social inequalities, stigma and discrimination is stronger than ever.
The new law against racism in the media is a tremendous victory, but there is still much more work to be done.