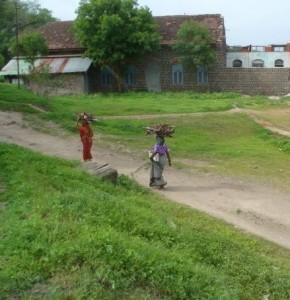 On New Year's Day, Maya and I were eating fried pastries on the side of the road in rural Uttar Pradesh, India. I am living in this northeastern part of India as an AJWS World Partners Fellow, and Maya works with me at an NGO that promotes gender equality and women's health. Maya rented a car and invited me to join her on a visit to a temple near our home in Lucknow, the state capital of Uttar Pradesh. Over chai and a snack, Maya started to tell me how she left her village to move to Lucknow, the nearest urban center, to pursue an education. Now she heads the Youth Sexual and Reproductive Health and Rights team at our organization and, at 28, is finishing her Ph.D. thesis. She wears jeans to work, owns her own motorcycle and frequents the giant air-conditioned cineplex at The Fun Mall (yes, Fun Mall is a proper noun in this case). Her lifestyle now makes it hard for me to imagine a time when nearly her entire village urged her father to not let her go to university.
The picture she painted for me about her struggles puts into perspective the hardships of many girls in India. Maya was lucky enough to come from a middle-class family. She has supportive parents, yet she still had to work hard for everything she has today. For every woman who has left the village to get a college degree, there are probably thousands who will never have that opportunity. In fact, according to the 2011 Indian Census, more than one-third of Indian girls are illiterate, and the rate of women participating in higher education is abysmally low. Maya has beaten these odds but has not forgotten about the obstacles many young women like her still face.
This International Women's Day, I am celebrating the strength with which Maya has navigated her personal struggles and emerged as a successful, independent woman.
Maya was the second girl to leave her village in order to obtain a college degree. The first girl, Padma, was not so lucky. Thirty-five years ago, Padma left to study in another state. She excelled in school, but her scholastic achievements brought her negative attention from her male classmates and teachers. According to Maya, when Padma received the top grade in her class outscoring the boy who was accustomed to being on top, he responded by collaborating with Padma's teacher to poison her. Padma died, but her case was never published or brought to justice. Instead, the school covered up the incident by calling it a suicide or indigestion. When Padma's village learned of this story, the tragedy turned into a cautionary tale for parents wanting to send their daughters to college.
But Maya's parents were some of the first to not let Padma's death scare them from giving their daughter an education. Even though Maya's father had encouraged her to be independent and well-educated her whole life, the pressure from the community to hold her back was so great that her father wavered until the last second, when Maya was zipping up her suitcase.
"That first year at Lucknow University," Maya told me as we got back on the road, "I was afraid to cross the street. I was a lion in my village, but in the city I was just a cat." As a first year student she might have struggled with the English medium classes, but now Maya scolds me in perfect English about how I don't eat enough potatoes or wear enough eyeliner.
Her confidence was growing as she began to excel in school, but soon after she left for college, Maya's father fell ill and everything changed. The medical expenses were quickly draining the family's resources, and her father had no way of paying for her tuition. The one uncle who could provide financial aid was unwilling to do so, figuring that sending a girl to college was a waste of money. Her father died the same day that she borrowed $200 from a friend to pay school fees. Maya was 19. For the next seven years, while working in the non-profit sector and earning her degrees, she became the sole provider for her family of five.
She eventually landed a fellowship at an NGO, where she had her first close contact with young girls living in urban slums. Part of her work involved conducting advocacy campaigns to try to mobilize support from parents and teachers to send local girls to school. Even though there are government welfare programs that fully subsidize school for these girls, there is still a significant gap between policy and reality. By the time her fellowship ended, she had helped 20 girls from that community go to school and felt empowered to continue her work in the women's rights field.
Maya does similar work at the NGO where we work now and says that she has become a role model for the youth with whom she is organizing. Maya recently told me over coffee that, "We tell the girls that change begins with you. I don't know how much they will change, but they will start to change." Maya, who is the exception rather than the rule, is now training others to be the exception, too.
Maya's story is an inspirational example of the kind of success Indian women can achieve. However, for every case in which women are afforded a quality education and a good career, there are far more women excluded from these possibilities. I admire Maya for her commitment to help women who have not been afforded the right promised to them under law. Emphasizing one success story, though, should not distract us from the broader conditions of inequality, discrimination and abuse common to the lives of many Indian women. It should only inspire us to work harder.
Justine Dowden graduated from Brandeis University in 2010. Originally from Sacramento, California, she is now an AJWS World Partners Fellow living in northeastern India working with an NGO that promotes women's health and gender equality.