A High Holiday message from Senator Jacky Rosen
As a proud Jewish woman and the granddaughter of Jewish immigrants, I grew up hearing stories that not only filled me with wonder but instilled in me the values of hard work, fairness and community. I have so many fond memories of sharing laughter, love and life lessons around the table at my family's Jewish holiday celebrations.   
Those values have proven to be powerful guides over the years: from my career as a computer programmer to the many years I served as president at Congregation Ner Tamid — the largest Reform synagogue in my home state of Nevada — to my time now in the U.S. Senate.    
As we approach the High Holidays, I am reminded of a timeless principle that guides me: the belief in change. Each Rosh Hashanah, we reflect on ourselves and on the state of the world and remember that it is within our power to fix the brokenness that we see within us and all around us.    
This year, of course, the scale of change our world needs can seem overwhelming. The climate crisis is worsening — with wildfires ravaging our communities and extreme drought putting our water future at risk. Democratic freedoms are under attack at home and abroad. And here in the United States, women have had a constitutional right to make their own health care choices stripped away from them.    
Like many of you, I was outraged and disheartened by the Supreme Court's decision to overturn Roe v. Wade, a ruling that not only impacts people in the U.S. but sends ripples around the world. The Supreme Court's decision further bolsters anti-abortion policies like the Helms Amendment and the Global Gag Rule, which severely curtail reproductive health around the world by imposing strict limits on the use of U.S. funds and penalizing organizations trying to access aid.  
My outrage, however, was accompanied by the desire to fight back and fight for justice. The pursuit of justice is, in fact, one of the most fundamental concepts in Judaism. Proverbs 21:3 tells us that "to do righteousness and justice is preferred by God above sacrifice." And Deuteronomy 16:20 exhorts "Tzedek, Tzedek, Tirdof — Justice; justice shall you pursue."   
As only the third Jewish woman to serve in the Senate, I feel a special obligation to lean into these teachings, especially when it comes to reproductive justice. That is why I voted to pass the Women's Health Protection Act to protect women's bodily autonomy and right to make their own health care decisions, and I sent a letter to President Biden urging him to take bold action to protect reproductive rights in the wake of the Supreme Court's decision. I also helped introduce the Let Doctors Provide Reproductive Health Care Act to protect medical professionals from being prosecuted for providing health care to women. And after learning that roughly half of all women veterans in the U.S. live in states likely to ban abortion, I joined two dozen senators in urging the Secretary of Veterans Affairs to take immediate action that would allow veterans and their eligible dependents to access abortion care and all related services through the VA.   
We can all do our part to help protect the health of all people. As I reflect during this Rosh Hashanah, I hope you will join me, American Jewish World Service, and the countless activists in the U.S. and around the world in fighting for this critical change that is so sorely needed.     
The Torah tells us that it's incumbent upon each of us to repair the world — tikkun olam. We are called on to speak out when harm is being done. As the only former synagogue president in the Senate, I strive to live my Jewish values each day. And so, during the High Holy Days, as we take the time to reflect on who we are and what we want to contribute to humanity, let us remember that our faith calls us to action; our faith calls us to speak out; and our faith calls us to repair the world.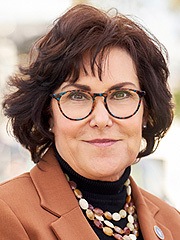 Senator Jacky Rosen is committed to working with both parties to deliver for Nevada's hardworking families. She was elected to the U.S. House in 2016 and then the U.S. Senate in 2018 and is only the second woman ever to serve Nevada in the U.S. Senate. Jacky is a fierce defender of women's reproductive health rights, as well as LGBTQ+ rights and voting rights.