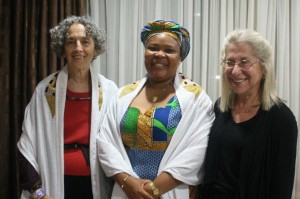 An intergenerational group of American Jews recently traveled with AJWS to Liberia to learn how Liberian women are effecting social change. Melia Plotkin, an AJWS intern, caught up with AJWS President Ruth Messinger to learn about the trip:
Melia: This was your first trip to Liberia. What was it like to travel to a country where AJWS's work is well-established?
Ruth: Much of our work in Liberia supports human rights for women, adolescent girls and people with disabilities—issues I care about deeply. Some of the Liberian women we met were leaders in the peace and reconciliation efforts to end Liberia's civil war. I was enormously inspired to see that these women have remained leaders in their communities and are teaching young people about the importance of human rights and education. One woman was asked how an AJWS grantee had benefited her. She answered: "I can now write down my phone number and give it to someone else." It was a staggeringly simple comment that reminded me why our work matters.
Melia: Tell me about the aftermath of Liberia's civil war.
Ruth: In truth, none of us can possibly understand what it is like to put a place like Liberia back together. Rwanda, a country that experienced genocide in 1994, has a very high economic growth rate and a president who is proud of how he has repaired the country. Yet Rwanda is still dealing with plenty of tensions. Liberia is that much more raw. There were 14 years of civil war that destroyed huge areas of the country. Fifty-two percent of the population is under 19 years old. Many of the adults lived through the 14-year civil war and therefore do not have an education. The intense need for economic development is not in sync with the fact that there is a large population of unskilled and unemployed youth. This is a challenge we must address, and we know that our grantees are working tirelessly to make peace and reconciliation a reality for all Liberians.
Melia: You traveled to Liberia with a number of American Jewish women, many of whom are feminist activists. Was there any discussion about the intersection—or conflict—between American expressions of feminism and African expressions of feminism?
Ruth: Yes. I don't think any of us know how to fully articulate what is the same and what is different, but there is a shared understanding that women do not have to be second-class citizens within any culture. The question is: how do you make changes that will work effectively and enduringly within different cultural structures? Due to the inter-generational nature of our trip, we talked a lot about the history of feminism. It is startling that people under the age of 25 know so little about feminist history in the United States and around the globe.
Melia: What were the most memorable moments during the Study Tour?
Ruth: For the first time, Study Tour participants had the opportunity to meet with the president of a country—President Ellen Johnson Sirleaf. The president is a very compelling figure. She is fiercely committed to social change and her goal is to move the nation from poverty to prosperity and from dependency to self-sufficiency. She explained that Liberia's three biggest challenges are peace and reconciliation in the aftermath of a civil war, youth unemployment, and the high incidence of rape. She is attempting to deal with rape by passing a law that would make rape a non-bailable crime. But she also believes that Liberia needs a national education and sensitization program to change people's behavior. The president is working hard to support infrastructure development, reintegrate displaced people, and alleviate Liberia's national debt as well.
Another highlight of the trip was meeting with AJWS grantee and Nobel Peace Prize winner Leymah Gbowee. We chose to have Letty Cottin Pogrebin, a distinguished feminist writer from the United States, interview her. She asked Leymah what it was like to suffer abuse, to live through a civil war, which tore her family and country apart, and how her faith has influenced her life choices.
Watch this video of Letty and Leymah's conversation: