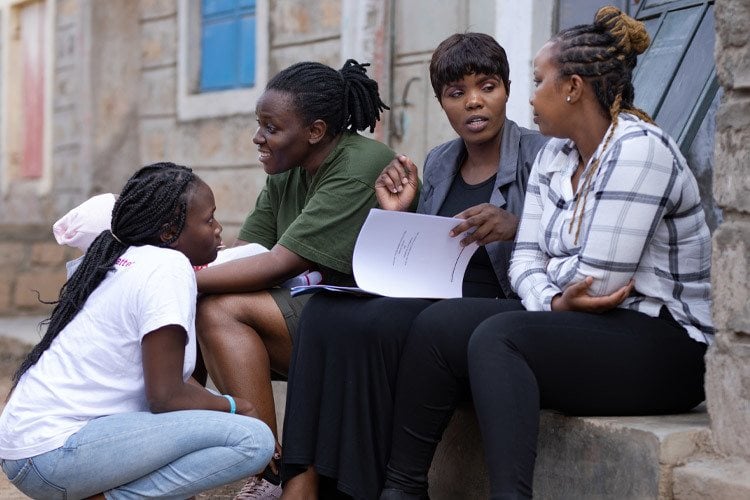 Lucy Wanjiku Njenga always believed she was meant for something more than the life she was born into: "I saw myself getting from a place of poverty to success — I knew there was something else waiting for me."
Lucy was born and raised in Dandora, one of the poorest and most dangerous neighborhoods of Nairobi, Kenya. Locals will tell you Dandora is an extremely hard place to grow up; a challenging place to survive, let alone thrive. Dandora is especially hard for young women. At 19, Lucy became pregnant and contracted HIV; she lost her son after just a few months. Somehow, Lucy forged ahead, opening a restaurant staffed by young mothers. She worked in other community organizations and ran assorted businesses, but nothing stuck.
When she looked around, she saw one constant: strong, young women just like her were struggling. So with a few friends, Lucy founded Positive Young Women Voices as a support group.
"We wanted to get out of the 'normal' here. Abuse, violence against women and girls, teen pregnancies, living paycheck to paycheck if there is any paycheck at all. All the inequalities we speak of as black women in this world — we face them here," she says today. "We wanted to see if we could change that story."
Growing into Dandora's most trusted source of support
Within a year, the PYWV team of volunteers was running women's empowerment workshops in Dandora, and the word was spreading. Women and girls in crisis — as well as those just looking for a sense of sisterhood, community and support — flooded into their lectures, workshops and trainings.
In 2020, AJWS funded PYWV to open an office in Dandora, which allowed the team to meet and host their community in a safe, central space.
Today, PYWV has expanded in every direction. They regularly hold socio-economic workshops, leadership and vocational skills trainings, and community dialogues with families and men about gender-based violence. Women facing immense crises come to them for help and support — and PYWV always answers the phone. Women receive a stipend for attending all PYWV events, often their only income to support themselves or their children.
"The road where our office is — it goes all the way to a dumpsite. I used to come here, to the end of this road and feel so lost. This community saw me at my lowest. And today, our office is here," she says proudly, sitting at the head of PYWV's meeting room table, her team gathered around her. "What I feared was the end was just the beginning of something better."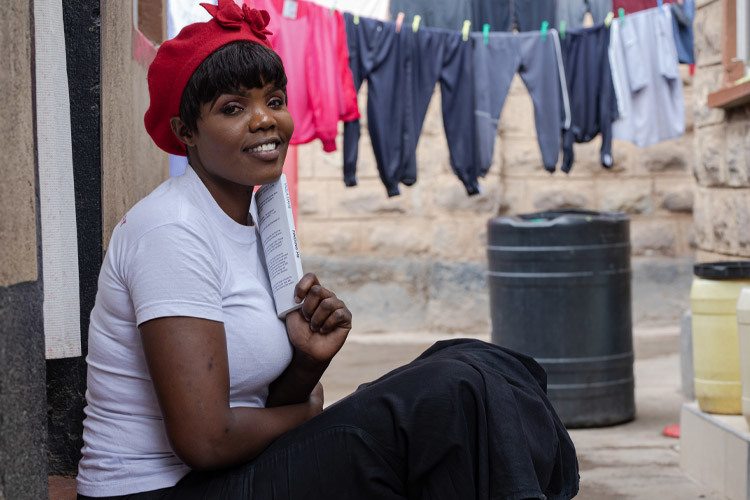 Building a community where everyone feels free
The 'something better' that PYWV brings to Dandora now affects over 2,000 women in the community. Lucy's team also works with men — fathers, brothers, husbands — to educate them about gender equality and shift the severe power imbalance in this community.
"Women have always been put in a box," says Lydia Odipo, PYWV's administrative coordinator. "The world has defined us as homemakers. But an empowered woman knows that we are much more than that. We are survivors. We can survive anything."
Lydia speaks from experience — for 11 years, she survived an abusive marriage. But she first met who is now her ex-husband while still living in that box. After moving to Nairobi to study, she became pregnant unexpectedly, leading to a quick wedding. His violence soon subsumed Lydia's entire existence, but she didn't yet have the strength to leave.
"There wasn't a single day that was peaceful for 11 years, and I had no one I could talk to," she says. She knew she needed to connect to other women in order to survive.
"I wanted to find a community where people could relate to me, who wouldn't blame me. To help me heal," she says. "I needed to find an organization where women spoke in one voice."
She sent a message to PYWV in 2019 hoping to volunteer, and was quickly welcomed into their growing Dandora community. Lydia was reborn. After her husband tried to strangle her one night, he fled the house — and Lydia made sure he never came back.
"I'm not the Lydia I used to be. She is gone. I thought being violated was a sign of love. Now I know better. PYWV helped me stand by myself. And now, through my story I encourage other survivors to speak up."
Today, Lydia is one of PYWV's most dedicated volunteer staff members, counseling, mentoring and supporting women who come to PYWV in crisis.
"What keeps me going is that I know I'm bringing a change to this community," she says. "We're building a new community where everyone feels free, and everyone lives with their full human rights."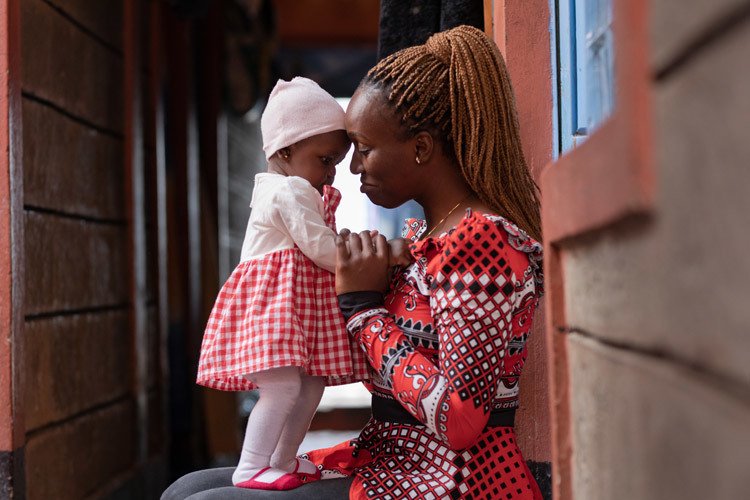 Finding light during life's darkest moments
Lydia and Lucy see themselves in the women they serve everyday — women in absolute crisis, needing a hand to pull them back onto their feet. Across Dandora, PWYV's team meets them in their homes — or helps them find shelter if they don't have one.
When Linda, 25, first encountered PYWV last year, she was at her lowest. Her partner had abandoned her just a week after she gave birth to their daughter, Leilah. She considered giving up Leilah, and contemplated suicide. The PYWV team visited Linda at home and assured her: this was not the end. This was a new beginning.
In the months that followed, Linda has enrolled in PYWV workshops about finance so she can eventually begin saving money, and trainings about gender-based violence. They've offered cash and material support so she isn't evicted from her single-room apartment. They've given Linda a sense of self once again — and a newfound strength.
"I see myself as a strong woman now," she says. "I have survived since my daughter was 7 days until now – and today she's 7 months. I know I gave up at first, but now I believe I can do anything."
She turns to Lydia and says, with a deep exhale: "I am so happy I found these people."