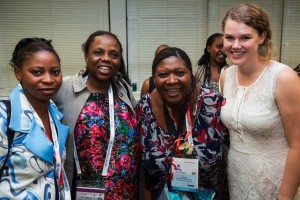 Last Monday, I took part in a gathering of global change-makers. Not only did I have the incredible opportunity to attend the International AIDS Conference, but I also participated in AJWS's "Grantee Meet and Greet" event, where close to 24 of our grantees from Africa, Asia and Latina America networked, learned together, and shared experiences and stories. Now that the United States' HIV travel ban has been lifted, grassroots activists and grant-makers can join forces in their fight against HIV and AIDS.
My specific role at the Meet and Greet event was to be the French interpreter for our grantees. It was very powerful to talk with the community leaders whose work I've been learning about all summer, and especially to observe how the impact of their work resonates internationally.
They exemplified the courage and collaboration of grassroots development. For example, SOS Sida and Solidarité des Femmes pour le Développement Intégral (SOFEDI) are community-based organizations (CBOs) in the Democratic Republic of Congo (DRC). SOS Sida works to improve HIV treatment and awareness and to provide medical services and psychological assistance to victims of sexual violence in conflict affected areas of DRC. SOFEDI offers free voluntary HIV testing, home-based counseling, and conducts outreach and sensitization programs concerning gender-based violence and HIV-related stigma. Sylvie, one of the representatives of SOS Sida at the Meet and Greet, is HIV positive. Nevertheless, her message is a hopeful one: "I live with AIDS but I still live my life. I am in my second year of graduate school studying computer science and want to be an example for other young women like me. Life doesn't stop because you have HIV."
Another example: SEROvie, a Haitian CBO and AJWS grantee, runs an HIV and AIDS prevention and support program for sexual minorities. The organization aims to improve social, economic and cultural conditions for sexually diverse communities by raising HIV and AIDS awareness, providing psychosocial support, advocating for an end to discrimination and increasing the financial independence of LGBT youth through vocational training programs. SEROvie won the 2012 UN Red Ribbon Award for being a crucial provider of aid and support for sexual minorities after the earthquake. Vladimir, a program coordinator for the organization told me about the rampant discrimination against sexual minorities. He explained that "Religious groups in Haitian society blame LGBT people for the natural disaster and believe it to be a manifestation of God's anger." SEROvie continues to demonstrate incredible perseverance in realizing LGBT rights in the face of a very hostile environment.
After speaking with and interviewing the Haitian and Congolese grantees about their aspirations, challenges and successes, I am further convinced that AJWS's relationship with these grassroots organizations is necessary for efficient development work and ultimately for achieving social justice. These are the types of close and reciprocal peer-to-peer relationships that we, as social activists and human rights defenders, must all continue to cultivate if we want to bridge inequalities, empower marginalized populations and put an end to the HIV and AIDS pandemic.
Jessica Newfield is an AJWS intern in the grants department for the Africa team. A student at McGill University, she is a pursuing a Bachelor of Arts in Political Science, with a double minor in International Development and Hispanic Studies.