As we get ready for the New Year, we're also taking a moment to celebrate the joys and victories in human rights that took place in 2013—an exciting and tumultuous year for human rights around the globe. Read on for 10 human rights happenings that AJWS celebrated in 2013, listed in chronological order. Let's celebrate the strides we've made together and take heart for the work still ahead of us!
10.  India: Supreme Court ruling upholds indigenous people's rights over contested land (April 2013)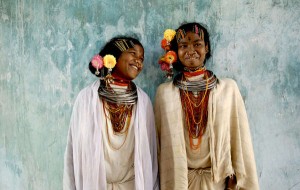 In a landmark ruling, India's Supreme Court rejected an appeal that would have allowed a UK-based company, Vedanta Resources, to mine the Niyamgiri hills. The court recognized the indigenous community of Dongria Kondh's right to the land, which they make a living from and worship as part of their traditional beliefs. The ruling affirmed that people with religious and cultural rights to land must be involved in decisions about how to use it.
This marked a major win for the rights of indigenous people in India, and it shows the power of social action. Thousands of protesters rallied to protest the mining effort last December, and hundreds of Dongria pledged to stay in the Niyamgiri hills.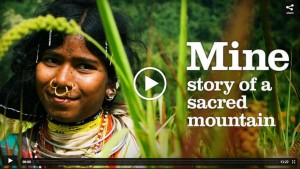 9.  United States: Supreme Court strike-down of 'anti-prostitution pledge' a victory for health and human rights (June 2013)
In June, the U.S. Supreme Court ruled on the side of human rights, striking down a federal provision that required organizations receiving government funding to pledge that they had adopted a policy opposing prostitution. Commonly known as the "anti-prostitution pledge," this provision ignored research that shows sex workers need support—not condemnation—to effectively address the spread of HIV and AIDS within their communities and live free of violence and abuse. Before the pledge was eliminated, some non-governmental organizations feared they would lose their funding if they engaged with sex workers.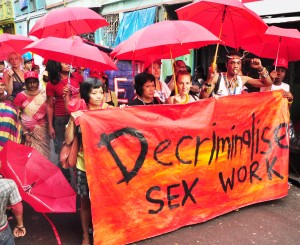 "I cannot tell you how relieved we are," said Meena Seshu, general secretary of AJWS partner SANGRAM in Sangli, India. "You cannot work for the rights of people or hope to end this epidemic without supporting sex workers. It's just not possible."
Read more on AJWS Global Voices.
8. United States: Food aid reform moves forward in Congress (June 2013)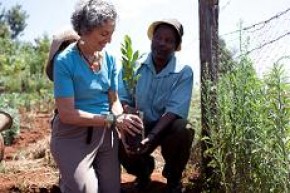 For more than two years, AJWS and its activists have worked to improve the way the United States delivers life-saving food assistance to millions of hungry people worldwide. This year marked the culmination of our efforts to reform foreign food aid. In April, President Obama weighed in on the debate, calling for improvements to our outdated international food aid system that would help us reach more people in a faster, more cost-effective way.
Later this spring, the House of Representatives voted on a bipartisan proposal to build greater flexibility into our system—including purchasing food locally when available. The bill was championed by House Foreign Affairs Committee Chairman Ed Royce and Ranking Member Eliot Engel. Although the amendment was defeated by a mere nine votes, this was the first time in history that representatives went on record in support of food aid reform.
In the end, AJWS and other allies were able to push forward incremental improvements to food aid programs in the Senate-passed Farm Bill. With the U.S. Congress poised to take action on the Farm Bill in early 2014, we hope to see the impact of our advocacy very soon.
7. Nicaragua: Central America's first LGBT healthcare clinic opened (June 2013)
In Nicaragua, LGBT people face serious challenges when pursuing medical care due to discrimination by health providers and fear of having their sexual orientation or gender identity exposed. Even in the wake of violence and abuse, few LGBT Nicaraguans seek the care they need. But after years of advocacy and research from AJWS grantee Grupo Safo—an LGBT rights organization—the Nicaragua Department of Health finally responded and opened an LGBT health clinic. It is the first of its kind in Central America, providing holistic, non-discriminatory care to people of all sexual orientations and gender identities.

Read more about our work in Nicaragua.
6. AJWS receives major grant to address child marriage in India (July 2013)
This summer, AJWS received a three-year, $15 million grant from the Kendeda Fund to address child marriage in India. AJWS currently funds 18 organizations in India that support rights for women and girls and work to end child marriage. These organizations work to empower girls and end child marriage by addressing the economic and social causes that lead families to marry their daughters at very young ages.
Child marriage has been going on in many parts of the world for millennia, tragically limiting opportunities for generations of women and girls. With the Kendeda Fund's generous support, AJWS and the grantees it works with in India will be able to strengthen their efforts to hasten the end of child marriage and improve the lives of millions of girls.
5. Pakistan: Malala Yousafzai nominated for Nobel Peace Prize (October 2013)
Malala Yousafzai, the Pakistani teenage girl who was shot in the face by the Taliban in 2009 for speaking out in support of equal education for girls, has become a symbol of unswerving resistance to the Taliban's violent denial of women's rights. Below, watch her in discussion with The Daily Show's Jon Stewart on the importance of education in diffusing terrorism and empowering women.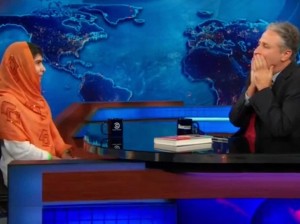 4.  Democratic Republic of Congo: Peace activists celebrate defeat of M23 rebels (November 2013)
Eastern DRC has been engulfed by conflict since 1994, when Hutu militias fled across the border from Rwanda—where they had just slaughtered Tutsis and moderate Hutus in one of the most organized genocides of the 20th century. But in the recent months, we have started seeing signs of hope. The notorious M23 rebels have finally surrendered, after years of unrelenting attacks against both civilians and the DRC military.
This is a huge step toward breaking the cycle of recurrent violence in Eastern DRC. Some rebel groups remain active, and there will be challenges ahead, particularly when human rights groups seek justice for war crimes—but this is a huge first step.
Read more on AJWS Global Voices.
3.  Guatemala: AJWS partner UDEFEGUA awarded the 2013 Alice Zachmann Human Rights Defender's Award by The Guatemala Human Rights Commission (November 2013)
The Alice Zachmann Human Rights Defender's Award recognizes people and organizations which have defended human rights through non-violent methods—and have been exposed to threats and attacks in the process. In November, the Guatemalan Human Rights Commission gave this honor to UDEFEGUA, an AJWS grantee founded in 2000 to support the men and women who defend human rights in Guatemala, so they can carry out their work without fear. The award was accepted by coordinator Claudia Samayoa on behalf of her organization. Watch highlights from Samayoa's acceptance speech, below.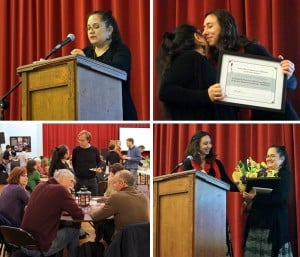 2. United States: AJWS launches new national advocacy campaign to end child marriage and gender-based violence (December 2013)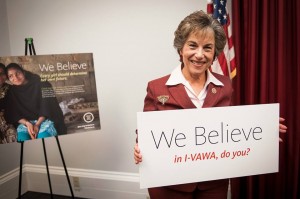 Following Rep Jan Schakowsy's introduction of the International Violence Against Women Act (IVAWA) to Congress in November, AJWS launched its new national advocacy campaign, We Believe, which calls on the U.S. government to do three things to promote human rights in the developing world:
1) End violence against women and girls;
2) Stop hate crimes against LGBT people;
3) Empower girls to end child marriage.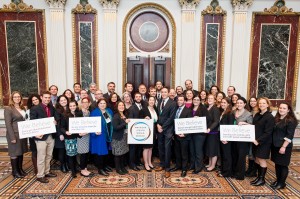 In the short time since the launch of We Believe this December, we have already seen an amazing response from our supporters, allies and human rights advocates across the U.S. We've gathered over 4,000 signatures on our petition urging Congress to pass IVAWA, and we've sent a delegation of 30 rabbis and Jewish leaders from 13 states to the White House to learn about the Obama administration's strategy to end violence against women, girls and LGBT people worldwide. From New York to Chicago to San Francisco and Los Angeles, all of us at AJWS are thrilled with the strong response to the We Believe campaign already, and we're eager to pursue this important work in 2014.
Read more on AJWS Global Voices.
1. Important Haiti legislation passes House of Representatives (December 2013)
 First, the bad news: Almost four years after a devastating earthquake struck Haiti, there are close to 300,000 people still living in tent camps in the country. Hundreds of thousands of Haitians have little or no access to potable water or basic health services, and Haiti is facing an impending food crisis. While a significant amount of funds have been committed by the U.S. government to help the country rebuild, a lack of accountability has created barriers to understanding how recovery is truly progressing in Haiti.
The good news is that earlier this month, the House of Representatives passed the Assessing Progress in Haiti Act of 2013, introduced by Congresswoman Barbara Lee. This bi-partisan bill will assist Congress in overseeing U.S. assistance in Haiti by providing lawmakers, the U.S. public and Haitians with key details on the manner in which U.S. donations are being spent.
This was a victory for AJWS and the larger Haiti advocacy community. We've worked together for the passage of this bill to increase transparency and accountability, which will ultimately ensure that relief and reconstruction funds are spent in responsible ways that create long-term, positive changes in Haiti.
What else would you add to the AJWS list of 2013 human rights victories? Let us know on Twitter: @AJWS