I am elated today because our grantee partners in India have achieved an historic victory for LGBTQI+ rights. Earlier today, the Indian Supreme Court struck down a colonial-era law that criminalized consensual sex between same sex adults. As India is home to nearly one-fifth of the world's population, this single ruling removes the threat of imprisonment and punishment from one of the largest communities of LGBTQI+ people in the world! LGBTQ+ Indians are now freer to be who they are and love whom they love—openly, safely and with pride. In short, their most basic humanity is no longer considered illegal. I am overjoyed.
I wish I were in India today to celebrate with our grantees, several of whom have been fighting for LGBTQI+ equality for years, and who played an important role in this case. We in the AJWS community are deeply proud to support so many of the organizations that have been leading the charge for LGBTQI+ equality in India.
Dr. Ramakrishnan—Vice President of SAATHI, a group AJWS supports that fights discrimination—reached out to us this morning sharing his elation:
"Today's Supreme Court verdict… comes as a big relief to our diverse communities. It removes a major obstacle to addressing social stigma, and advocating for… inclusion within families, educational institutions, healthcare systems, and workplaces. We'd also like… to sincerely thank AJWS for supporting our work with engaging communities, strengthening voices and advocacy over the years."
This afternoon, we heard from Hasina Khan of Awaaz-e-Niswaan, a grantee partner in India that fights for women's rights. She wrote:
"Thank you, Supreme Court, for this historic judgment. Today is a victory for the Constitution and our fundamental rights. This is not a single judgment, this is the fruit of a long battle; a day of happiness after centuries of violence, struggle and discrimination."
This decision deeply reinvigorates our efforts to end discrimination based on sexual orientation in India and around the world. I am confident that this victory will spark momentum for activists working to overturn similar unjust laws in the more than 70 countries that still criminalize LGBTQI+ people today. As Jews, we understand the harm caused to minorities by state-sanctioned hate, and we are committed to upholding the dignity and human rights of every person.
I am soaring with pride and excitement at this time of love and possibility.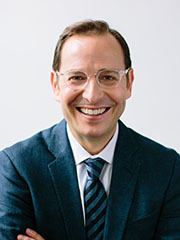 Robert Bank is President and CEO of American Jewish World Service, the leading Jewish organization working to promote human rights in the developing world. Robert has spent his career championing human rights as an attorney, activist and leader. He joined AJWS as Executive Vice President in 2009 and previously served in New York's municipal government and in the leadership of GMHC—one of the world's leading organizations combatting HIV/AIDS. Robert has been honored with GMHC's Lifetime Achievement Award and the Partners in Justice Award from AVODAH: The Jewish Service Corps.