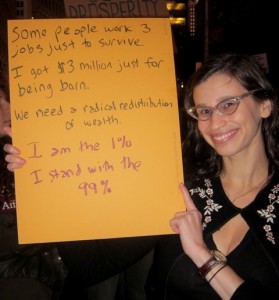 Originally published on the blog of Pursue: Action for a Just World.
On June 20, Pursuers will join AJWS and Global Circle to see the winning entries from the Where Do You Give? National Design Competition and engage with innovative speakers about giving in the 21st century. As a preview to the event, we asked speaker Karen Pittelman to share her personal approach to giving. Read the interview below and click here to see Karen's full bio and register for the event.
How did you first become involved in issues of philanthropy and privilege?
I was in college when I realized that if I truly believed that the distribution of wealth was unjust, I had to do something about my three million dollar trust fund. After a long process with my family, at 25 I was able to gain control over the trust and dissolve it to form the Chahara Foundation. I worked together with a group of amazing women activists, lead by Chahara's director Deahdra Butler Henderson, to establish the fund. Then I transitioned out and transferred all decision-making power over to them. To me what was most important was not redistributing the money but redistributing the powerover the money. Over the course of nine years, ending in 2008 when the board finished spending down, the fund gave grants to grassroots groups in Boston led by and for, in the foundation's words, "women and girls who have known poverty and may still be intimate with its ravages… in their endeavors to reshape community to allow for a higher economic, creative and spiritual quality of life."
Around the same time that I was trying to set up the foundation, I went to a workshop led by the Kensington Welfare Rights Union. It was the first time anyone had ever said to me: yes, being an ally is great, but if you come from a privileged background, what we really need you to do is organize where you come from. I hated that idea–there was so much I wanted to run away from in the privileged world I came from!–but it also hit me right in the gut, and I knew that it was the truth. That's how I first got involved with Resource Generation, whose mission is to organize young people with wealth to leverage resources and privilege for social change. I've been doing that organizing work in one way or another for the last eleven years, and I probably will be for life! I believe that when people with privilege tell the truth about their lives, it's important proof that the deck is stacked in favor of the few, and that if we want a more just society, we must demand a more just distribution of wealth.
What advice do you have for people with class privilege who want to use it to make change?
Make a life-long commitment to grappling with that privilege and the ways you've been trained to use it. Class privilege, like any other privilege, is not designed to make change. It's meant to keep the status quo and the unjust distribution of resources firmly in place. Good intentions are important, but they're not enough–you're voiding the manufacturer's warranty on some very heavy machinery here. Without deep attention and committed dialogue about the ways those of us with privilege have been taught to be in the world, we will inevitably wind up re-entrenching the very structures we hope to challenge.
But don't let all this stop you from taking action! Yes, it's gonna be hard and scary and messy, but that's ok. In fact, that's how you'll know you're on the right track–what we've been taught is comfortable is exactly what we need to question. Support the leadership of those who are most affected by oppression–let go of the idea that you know best or that you need to be in charge of something new. Stay open to listening and learning from your mistakes, and be tolerant of the mistakes of those around you. Bring your full self to the table–tell the truth about where you're coming from not because you feel guilty about it, but because it's part of your story, part of who you are and why you're there in the first place. Be in community with other people with privilege so we can challenge our class patterns together. And remember that change is slow work, and that it may look very different from what we've been trained, as people with privilege, to expect.
How do your Jewish values relate to your work?
I've always felt most connected to prophetic Judaism, to the idea that it is both a spiritual practice and a spiritual obligation to fight injustice, and I am continually inspired by the long legacy of radical Jews. My friend Ezra Nepon just published a book about the New Jewish Agenda, Justice, Justice Shall You Pursue, and it blows me away how much I don't know about the work of the generation before mine, and how much there is to learn from it. My first job out of college was as a researcher for the Jewish Women's Archive, and I spent a good chunk of that time buried in the library with the papers of Bella Abzug. It was the same year I was struggling to get control over my trust to form the Chahara Foundation, and grounding myself in the tradition of bold, radical Jewish women like Bella became a deep source of strength for me. Also, I can't talk about bold, Jewish women without mentioning my grandma Toots who, even in her late nineties, is still a formidable presence, and taught me both how to make a mean tzimmes and that I shouldn't shy away from a struggle.
What are you most excited about for the Giving By Design event?
It's always exciting to me when people come together to challenge themselves not only to give more but to examine how they give. I love the tradition of the tzedakah box, the idea of a communal obligation to care for all who need care, and I'm looking forward to seeing all the innovative ways these artists have explored that concept.