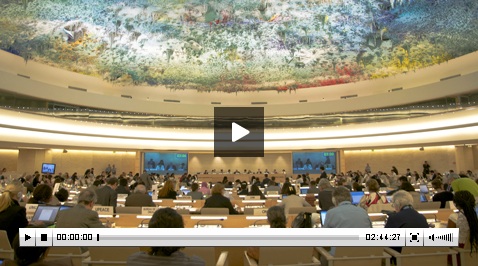 On Tuesday, June 26th, the United Nations Human Rights Council assembled its first panel on women human rights defenders (WHRDs) as part of its annual consultation on women's human rights. The panel reviewed the current context for women human rights defenders and presented recommendations to the UN and member states on pursuing gender-specific programs for protection of WHRDs.
In the course of their activism, women human rights defenders challenge deeply entrenched attitudes and powerful patriarchal institutions. They confront threats similar to their male peers as well as those that are specific to their gender. WHRDs are disproportionately impacted by gender-based violence and sexual harassment. In addition, they often face attacks on their reputations through the strategic use of negative stereotypes. These attacks can have severe consequences, including loss of employment, home and custody of children.
For example, in 2010, a 12-year-old member of an AJWS grantee working on girls' empowerment in India was abducted and raped. In response, members of the group documented the case, filed a complaint with the police and took the girl to the hospital for an examination. The police subsequently detained the young woman for three days. When the executive director of the organization protested the girl's illegal detention, police officers verbally threatened her and filed two cases against the director—including charges of trafficking and organizing the rape of a young woman. When the director was summoned to the police station to give a statement, a police officer sexually harassed her. She fled into hiding to evade arrest and was eventually cleared of charges.
Tuesday's panel heard from a range of civil society organizations, including those that represent AJWS grantees Urgent Action Fund and UDEFEGUA. They emphasized the need for effective protection mechanisms, including the documentation of the violation of the rights of WHRDs; increased coordination between the UN, member states and national human rights institutions; and prompt and flexible responses from said human rights institutions regarding urgent risks and need.
In her remarks, Sunila Abeysekera, a woman human rights defender from Sri Lanka and former board chair of Urgent Action Fund, emphasized the need for increased visibility of WHRDs who work at the grassroots level, like many of AJWS's partners. The panelists also highlighted increasing threats aimed at those working on natural resource rights and sexual health and rights—two priorities for AJWS grantees.
AJWS has long advocated among funders and other colleague organizations, for holistic support of human rights defenders who face risk due to their work. In our strategy paper "Risk and Responsibility: Protecting Human Rights Defenders," released last year, we call for a focus on the security needs of women human rights defenders. In addition to receiving threats from state and non-state actors, women human rights defenders have historically been overlooked within larger mainstream human rights movements and this often extends to neglecting their security needs.
The human rights community should familiarize themselves with the security issues that affect women activists and support partners to develop security plans that address the needs of these activists. This panel represents a step forward in garnering increased attention for the rights of women human rights defenders worldwide.
Jesse Wrenn is a senior program officer at American Jewish World Service.