Nikhil Aziz, Director of Natural Resource Rights at AJWS, visited AJWS's grantee organizations in the Democratic Republic of Congo and has been sharing stories from his travels.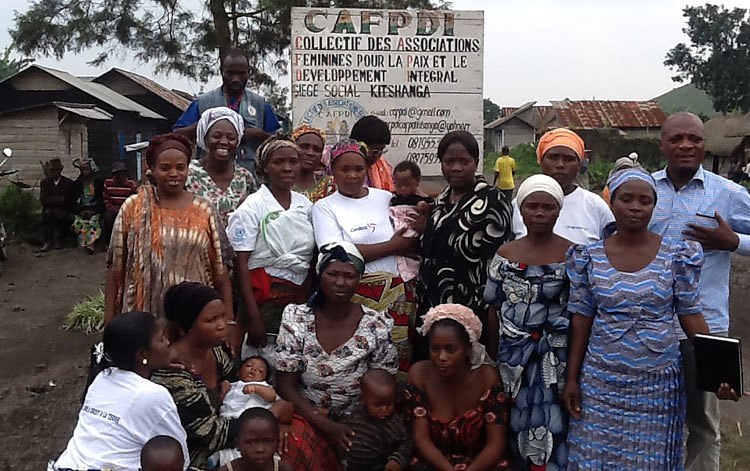 On our way to Nyakakoma, Democratic Republic of Congo, we'd spent a night in the town of Ishaha, just across the Uganda border. It reminded me of the Wild West: a small town, a main drag, ramshackle buildings on either side, one hotel, rumors of bandits or rebels nearby, and immigration officials seeking a bribe. Quite unexpectedly, Mobutu's chef was there, too. Yes, the former dictator's chef was the cook at the only restaurant in town, and his wife ran the only bar! The beer was warm (no electricity), but the ugali (like West African fufu, made of sorghum, millet or maize flour) was the best I've ever had anywhere in Africa.
None of that prepared me, however, for the "road" to Kitshanga in North Kivu's Rutshuru Territory. The entire four-hour stretch we drove—each way—was potholes. There was simply no road.
One consolation was that the surrounding countryside was absolutely gorgeous. Part of the drive was through Virunga National Park (Africa's first national park, as I was reminded often), but the bulk of it was through the seemingly endless dipping and rising emerald green of eastern DRC's mist-swathed mountains. A huge part of the land we drove through is now "owned" by the DRC's First Lady, Olive Kabila, according to my colleague Charles Mukandirwa.
But what I'll remember more than the idyllic scenery is meeting the members of the Collective of Women's Associations for Peace and Integral Development (CAFPDI). A collective of 19 associations working on different women's issues, and AJWS's newest grantee, the organization blew my mind.
For one, these women all volunteer (and pay dues). AJWS, they told us, is their first, and so far only, funder. I wanted to know how this all came about.
"Each of us saw that women were not organized," said Chance Mabutwa. "We saw a need and so came together with other women to address it. We don't take salaries, but are doing this out of commitment to women, and women's rights."
They pooled their resources, rented an office and meeting space, and began working together as CAFPDI.
"When we started, we had no idea how much we'd have to be working—the demand was so high," added a woman named Ndoole.
"Before, in village meetings with men present, women were often quiet. Since we began, the women we work with have been more outspoken. We're even mediating between women and men over land conflicts. And because we've been sensitizing both around women's rights, we've been accepted even by men," said Yvonne Vumilia proudly, letting us in on their winning strategy. Charles Mukandirwa, my colleague in the DRC, told me that while CAFPDI's member associations have different areas of work, the collective focuses heavily on women's rights to own land.
Since January 2015, CAFPDI has identified 54 cases involving women's land rights and mediated 36 of them, 17 of which have been resolved. Many of the cases involved inheritance discrimination against women; others, land grabbing by neighbors, outsiders or militias.
Their sensitization sessions have reached nearly 6,000 people, 2,000 of which were women. CAFPDI also held a workshop on women's land rights, inviting the local authorities and militia along with women so these issues could be discussed openly. Now, local governments are more open to dialogue and are now even referring women to CAFPDI!
I was curious about the different organizations that made up the collective. Eugenie Maska of SFUP (Women United in Solidarity for Peace) shared her story first.
"Registering relationships is very important, [because] otherwise when a man dies, the woman is left with nothing," she said. SFUP is doing a lot of work on this, and it's been taken up by others within the collective. "We are also working on prison monitoring, to see who's being arrested and how they're being treated."
Eugenie got involved when she noticed only men attending meetings:
"I wasn't standing for that," she said. "I always saw myself as a leader and so I began organizing other women. We formed a group because we understood that our strength was in numbers, especially in the context of all the troubles. When other women saw our successes, they began joining."
She continued, "I saw that a lot of our customs were discriminatory. I didn't get any inheritance from my father. That made me think. One of my brothers was more liberal, and he argued with the rest of my brothers for fairness."
Chance, who is CAFPDI's president, was orphaned during the civil war.
"My mother was killed, and I grew up with relatives," she said. "They didn't treat me very well. But that inspired me to begin doing something for others like me."
Even as a young girl, Chance showed leadership. It did not go unnoticed: When an opportunity arose, her village chief selected her to attend a training by the UNDP (United Nations Development Programme). It gave her ideas about women's economic needs and rights, as well as the impetus to create FUD (Women United for Development).
Another participant, Innocente Bahoze, is grateful the collective came together and provided training.
"We now train others," she said. "Even men in our communities recognize our work."
Innocente got started in 2002, when she was working as a health aide and one of her children developed Kwashiorkor, a form of malnutrition cause by a protein deficiency.
"I was shocked," she said. "How could this happen? Then, I started thinking, if people are suffering malnutrition here, I should do something. I left the health clinic and began ADDEF (Association for the Defense of Women's Economic Rights)."
She received hoes and other gardening tools from the FAO (Food and Agriculture Organization, of the UN), followed by vegetable and fruit seeds from another organization.
"I felt we needed to band together," she said. "That's also why we formed CAFPDI, and why we and our groups all contribute to it. Economic independence is important to me."
Ndoole nodded, adding, "But it's not just economic independence. It's also our food sovereignty." Fuka Inlamya (Ndoole's organization) is working with communities on agroecology, a core principle and practice of food sovereignty.
"We use only our own local seeds," she said proudly. Her colleague Jolie added, "And that is connected to our work protecting the environment—like reforestation."
I asked them about how they organize: "We work closely with the village chiefs," Chance said. "It's strategic to do that, like bringing the men in as well. We also go door to door. We even do what the Jehovah's Witnesses do."
As we left, I told them, "You know, on our way here the road was so bad, I wondered why we were doing this. It felt like it was taking forever. We were being tossed around in the car like a sack of potatoes. But now, having met you all, I feel the road back is going to be a lot better. We won't feel the potholes."
And we didn't.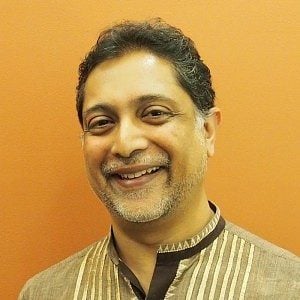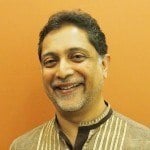 Nikhil Aziz is the director of Natural Resource Rights at AJWS. Before joining AJWS, he was executive director of Grassroots International, which funded social movements for resource rights in the Global South and did advocacy in the United States. Previously, Nikhil was associate director at Political Research Associates, which studied the right wing for the progressive movement. He continues to speak, teach and write on human rights, international development and social change. Nikhil has served on the boards of Africa Today Associates, Massachusetts Asians & Pacific Islanders for Health, MASALA (Massachusetts Area South Asian Lambda Association), Resist, and the International Human Rights Funders Group. He currently serves on the boards of Engaged Donors for Global Equity (EDGE Funders) and the Jessie Smith Noyes Foundation.