On May 31, 2020, disaster struck El Salvador. Tropical Storm Amanda, the first in an extremely active storm season, made landfall. Heavy winds and rain ravaged the country, claiming at least 14 lives country-wide and leaving in its wake some $200 million in damage. The water flooded city streets and careened off hills, carrying with it rocks and mud. Huge and powerful landslides formed and destroyed homes and roads throughout the country.  
Thousands of Salvadorans were suddenly left homeless, without power or safe drinking water. Under normal circumstances, damage of this magnitude would have been extremely challenging. But because of COVID-19, the aftermath of this storm was catastrophic.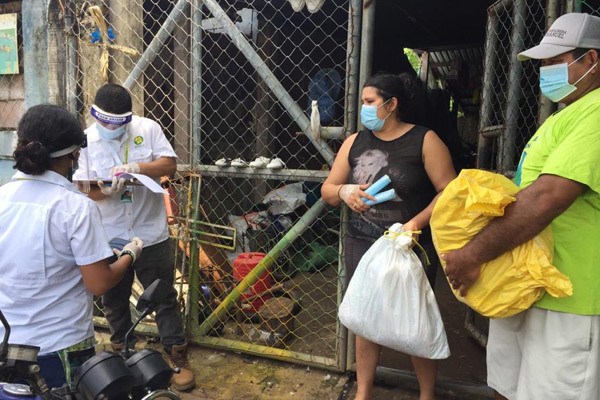 An impossible choice
What should have been an easy choice to make—seeking refuge in a shelter—felt impossible for many in the midst of the pandemic. On one hand, going to a shelter meant having electricity, food and clean water, avoiding the risk of water-borne-illness and injury in damaged homes. But with COVID on the rise in the country, decamping to a shelter—where social distancing would have been all but impossible—would put thousands of people at risk of contracting the virus.
Unfortunately, the residents who stayed home had even more challenges to overcome: El Salvador's strict quarantine rules. Even before the country saw its first case on March 18, President Nayib Bukele enforced harsh lockdown measures. In addition to closing schools and the airport, Bukele restricted travel between counties, suspended all public transportation and enforced a curfew. Salvadorans were only allowed to leave their homes twice a week for groceries, and only one member per household could leave at a time.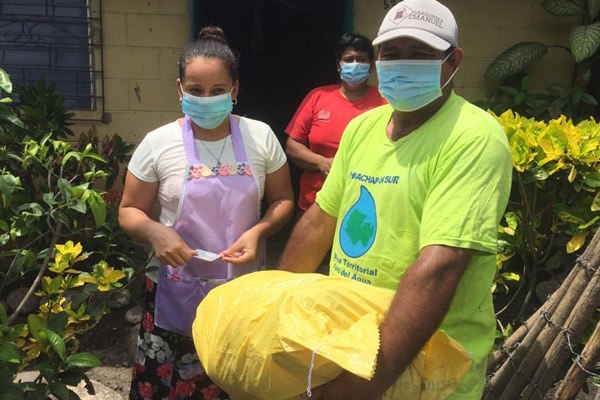 To enforce the lockdown, Bukele sent the army into the streets, with strict orders to arrest anyone who violated it. Those who were apprehended were transported to containment centers where they were forced to quarantine in solitary confinement for 30 days. Many who survived the ordeal reported overcrowding and incarceration that lasted well beyond the allotted time.
Of course, these measures instilled a great deal of fear and anxiety for the people of El Salvador: They were afraid of contracting the virus and being detained. Now, in the aftermath of Tropical Storm Amanda, those who remained at home faced the prospect of the new threat of illness from the sewage-filled water unleashed by the storm. Furthermore, the curfew limited the amount of time residents could rebuild and safeguard their homes; and the travel restrictions and limitations imposed on grocery shopping made it even more difficult for people to access food, clean water and supplies. Salvadorans who were already terrified of the virus and the government now had to fight even harder for their most basic needs. And the government remained inflexible, refusing to ease Bukele's restrictions and displaying a total lack of compassion for the people on the ground struggling to survive.
Mobilizing to support those in need
Luckily, AJWS grantee-partner La Unidad Ecológica Salvadoreña (UNES) was ready to help the impacted communities stay safe and healthy. UNES—which under normal circumstances works with rural and farming communities to defend the environment by restoring mangrove habitats, protecting against flooding and supporting local, small-scale agriculture—shifted gears. Concentrating on one of the hardest hit areas, the rural lands near the Paz River in the southwest, UNES tackled the daunting task of figuring out how to distribute food, hygiene products and personal protective equipment to families who had no means to sustain themselves after the storm.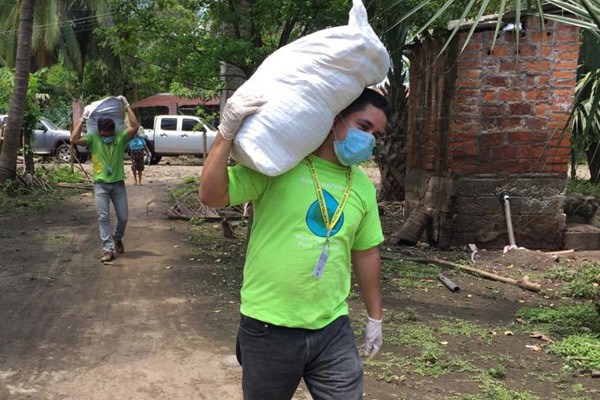 UNES worked tirelessly with local leaders and other organizations to quickly identify the families who were in dire need of relief. The organizations then worked together to develop an effective system of distributing food and supplies. UNES, always mindful of the looming threat of the virus, also wrote a protocol to ensure that everyone took precautions to reduce the risk of spreading the virus during the delivery process.
Thanks to UNES's efforts and collaboration with local communities, in mid-June, 56 vulnerable families received food staples including beans, rice, corn, oats and coffee, as well as sanitary and hygiene products like rubbing alcohol, antibacterial hand soap, menstrual products, toilet paper, face masks and bleach.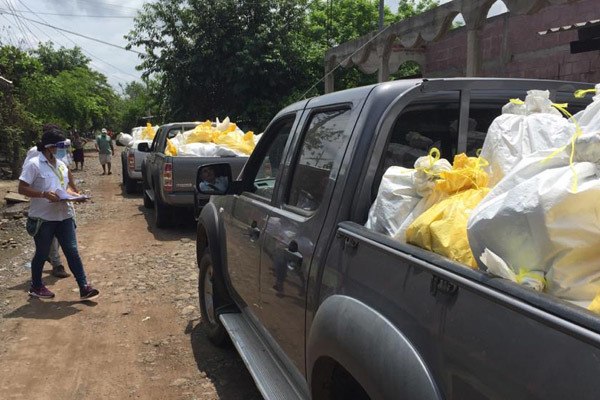 UNES's local approach enabled these families to receive the immediate and specialized assistance that they would not have received otherwise. By listening to the needs of people in the community and responding to them, UNES is ensuring that vulnerable people have exactly what they need to survive the dual threats of COVID-19 and Tropical Storm Amanda.
We are proud to support UNES's work to help their community weather multiple disasters today and in the future.
Malkah Bressler is the Marketing & Communications Associate at AJWS.