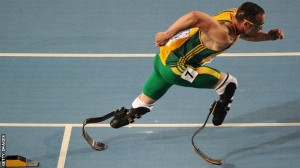 With only a few days before the 2012 Summer Olympic Games in London, one Olympic athlete has my full attention: Oscar Pistorius. He's the first double-amputee runner to compete in track at the Olympics with a chance to win South Africa's 21st gold medal! Oscar's achievement is a milestone for inclusion. But this is only one step in a larger effort to ensure that people with disabilities are fully integrated into social, political and communal life.
The United Nations estimates that over 650 million people around the globe are living with disabilities. More than 500 million of these people live in developing countries. Unlike Oscar, most disabled people in marginalized societies do not have a chance to participate in communal events. When they do, their contributions often go unnoticed. People with disabilities are subjected to many forms of discrimination and bigotry including sexual abuse and heightened vulnerability to HIV and AIDS. In most cases, they are seen as people who do not have rights and certainly as people who do not have sexual or reproductive rights.
Governments and donors alike fail to provide relevant services or funding to address the stigma disabled people experience on a regular basis. According to the Disability Rights Fund, most funds available for disability rights are mainly for prevention, rehabilitation, or charity programs. This should not be the case! People with disabilities should not be excluded from economic opportunities, decision-making processes or from leadership positions. Unfortunately, they are.
In Zimbabwe and Uganda, AJWS supports Women and AIDS Support Network (WASN) and Gulu Union for Women with Disabilities (GUWODU)—two grassroots organizations that advocate for the rights of women living with disabilities. WASN and GUWODU are committed to ensuring that these women can fully exercise their sexual and reproductive health rights in the face of stigma, discrimination, HIV and sexual violence.
People with disabilities deserve to live full lives with fundamental freedoms. Like Oscar Pistorius, they might be capable of the extraordinary. AJWS will always be behind Oscar as he steps onto the track, and we will continue to support the disability rights movement to pave the way for justice and equality.
Terry Mukuka is an AJWS program officer for Africa.