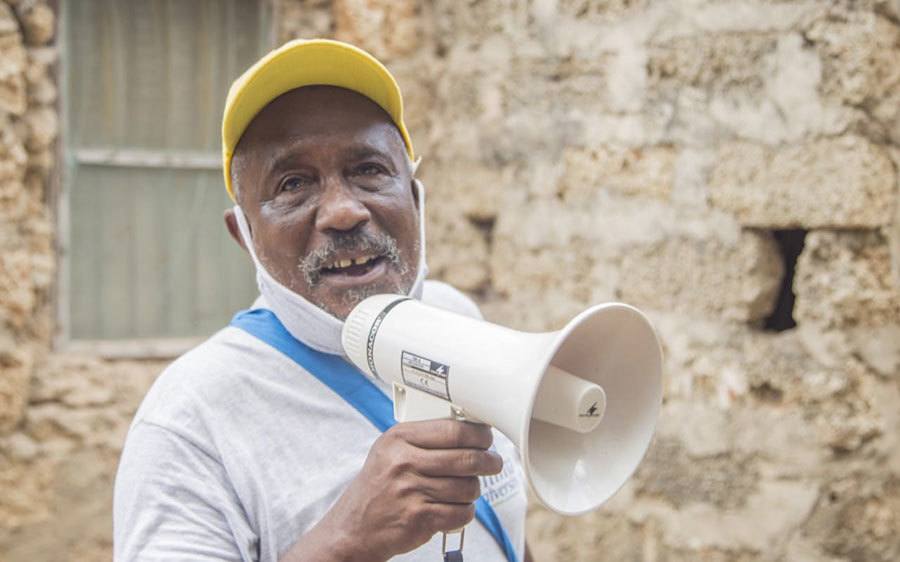 When Shee Kibwana Shee was growing up in Lamu Island, Kenya, he always dreamed of becoming a journalist — reporting the news that mattered most to his community and bringing people together. Decades later, he's doing exactly that, but in a way he never expected: For the past 15 years, Shee has been Lamu's town crier. Community members entrust Shee to circle Lamu's public squares, markets and ports on foot with a megaphone, delivering messages and making important announcements about upcoming events, political issues and local news.
In Lamu, this form of newscasting is the traditional norm. But it's also essential, as Internet access is limited. And since the COVID-19 pandemic began tearing through Kenya in early 2020, Shee's work has never been more important. For months, AJWS grantee-partner Save Lamu has employed Shee to deliver critical messages educating his community about the virus, and how people can stay safe and healthy.
Lamu's Man with the Megaphone
Step off the boat to Lamu Island, and you'll witness a unique part of Kenyan culture. Lamu's Old Town is a UNESCO World Heritage Centre and home to about 25,000 people. It's considered the best-preserved Swahili settlement in East Africa, with a port that's been moving goods through the continent for 600 years. People use donkeys more than cars to navigate Lamu's narrow alleyways, textile shops and tree-shaded squares.
61-year old Shee was born and raised in Lamu, and when he began working as a town crier in 2006, he relished that he could spread messages to his community so effectively, as they sat for tea in Lamu's leafy town square or congregated at the seafront. He is a pivotal piece of Lamu's culture: The island's older residents don't rely on radios or television — let alone smartphones — to hear the news. They rely on Shee.
And in 2020, he just may have saved their lives.
"I'm so proud that the message I spread about the dangers of COVID-19 has reached a big percentage of people here in Lamu," says Shee. "I feel like I have saved so many."
Follow Shee as he makes his way through Lamu Island. Video courtesy of Save Lamu.
Saving the Environment, and Saving Lives
Shee first became a critical part of the local COVID response effort in spring of 2020, when AJWS grantee-partner Save Lamu hired him to deliver messages about virus prevention. Prior to the pandemic, this local advocacy organization had worked tirelessly to protect the region's delicate ecosystem from damaging industrial development projects, largely through community-based advocacy.
In 2019, for example, Save Lamu and a coalition of advocacy organizations (including deCOALonize,  another local group supported by AJWS) halted plans for the construction of a coal plant that would have sucked resources from this coastal region and dumped wastewater into the sea, destroying Lamu's fishing industry.
But as COVID-19 swept the world, Save Lamu drastically shifted its work to COVID-19 education and material aid — they knew the lives of their community members were at stake. As misinformation about the virus flew rampant and masses of people lost their jobs, Save Lamu stepped in to educate the community about preventing the virus's spread, distribute food to those most in need, and create thousands of hand-made face masks.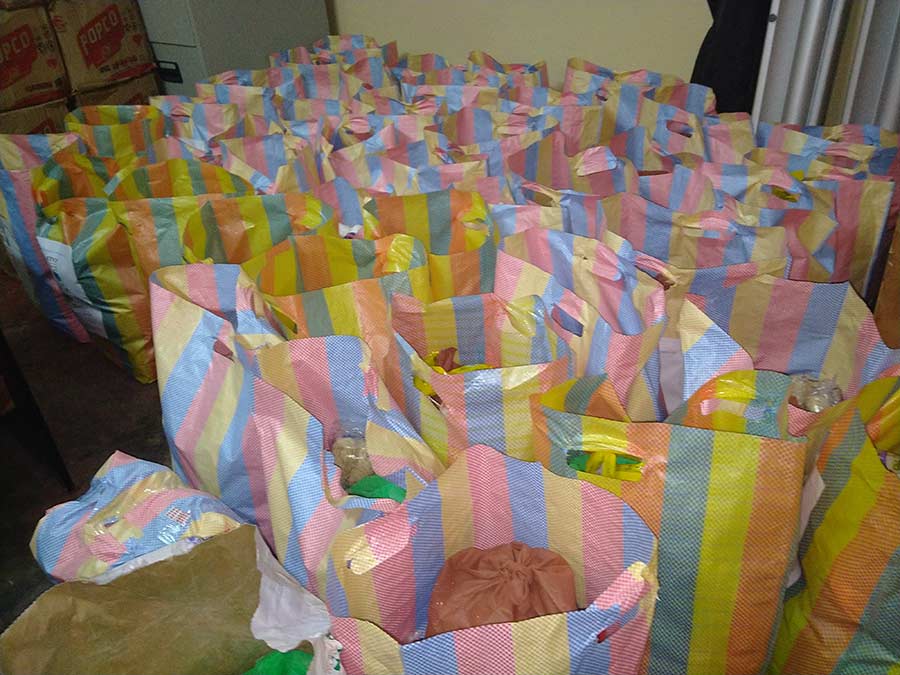 "At first, people simply didn't believe the virus was real; the pandemic couldn't exist here because Lamu has a hot climate," remembers Save Lamu's Communications Officer Khadija Juma. "We knew we needed to give people the tools to protect themselves, but also educate them scientifically about the dangers of the virus."
Beginning in April 2020, Save Lamu launched educational social media campaigns on Facebook, Twitter and WhatsApp to reach the youth of Lamu Island and the surrounding county. Save Lamu staff knew they needed a trusted, local community member to deliver the message to the island's older residents and people without televisions or smartphones — and Shee was the man for the job.
Save Lamu worked to protect their community through these educational messages, but also through direct, critical aid. Their staff hit the road to Lamu county's more remote villages, where they distributed thousands of hand-sewn facemasks and installed over 70 water tanks, giving people access to clean water and hand sanitizer.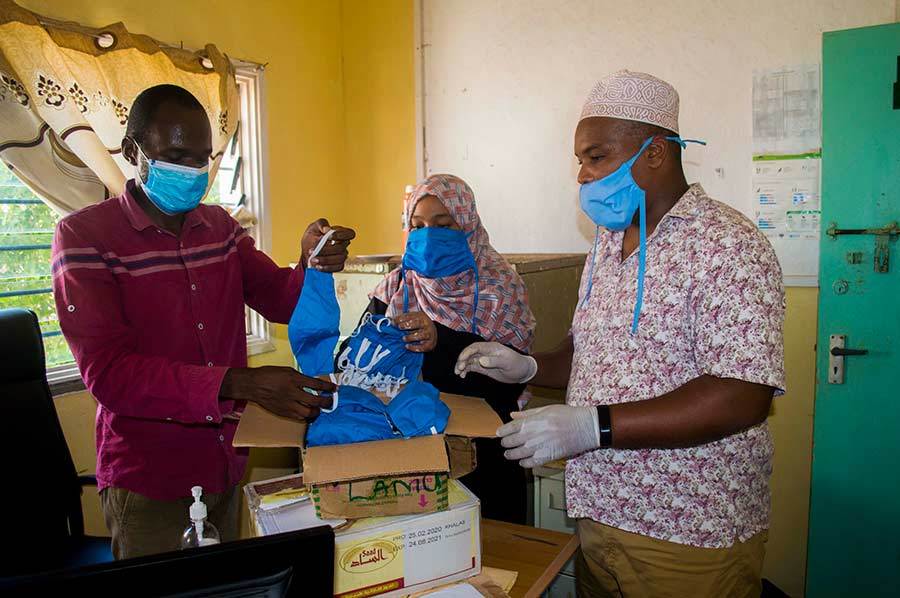 In these villages, staff members would go gather villagers to explain how the virus spreads, and demonstrate mask use and proper handwashing techniques, so people understood the importance of the masks they'd received and the clean water installed in their village.
"We'd organize demonstrations for just 10 or 15 people at a time, then move on to the next group," says Khadija. "We targeted mosques and churches, and collaborated with imams and pastors to spread the word about COVID-19 prevention before prayer time. We'd gather people in markets, around public toilets, in the bus stations — anywhere we could safely bring people together. It brought a huge impact to Lamu county."
On the Road and at Home, a Success Story
For Shee, working with Save Lamu has brought new meaning to his community reporting, and has reinforced his love for his island.
"Lamu is my home, and I feel happy to be here," he says. "And even though my dream to become a journalist never became a reality, I'm happy I continued to follow my passion for community reporting. I get to connect with people."
Save Lamu's work has been undeniably effective. According to Khadija, the region has seen less than 100 reported COVID-19 cases — largely thanks to their campaigns to educate and equip the public to protect themselves. And they've resumed their advocacy work to convince international funders not to invest in development projects that could harm the community. Save Lamu is truly living up to its name.
"If you stop a small kid in Lamu and ask him or her: 'How do you prevent and protect yourself from COVID-19?', the kid could give you all the answers. And we have elderly people right now who are the most educated on the island about COVID," says Khadija, before adding, proudly, "We reached our targets."