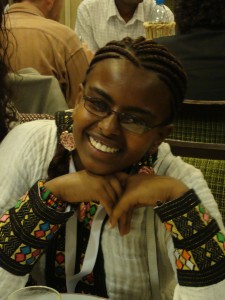 From April 19-22, AJWS staff and 25 grantees attended the AWID International Forum on Women's Rights in Development in Istanbul, Turkey. Seventeen-year-old Naboni Etansa from Ethiopia traveled to the Forum with the Jerusalem Children and Community Development Organization (JeCCDO)—an AJWS grantee and a partner in the Nike Foundation's Grassroots Girls Initiative. Below are Naboni's reflections on her experience.
My time at the AWID Forum in Istanbul was so fantastic for me. I left my country, Ethiopia, for the very first time to go to a very big conference with about 2500 people, mostly women, from 150 countries.
I wanted to go to this conference to expand my knowledge and to learn about new issues. And I did! The conference helped me understand what women's social and economic status is and how I can improve it. I met people who had very diverse cultures, norms, values, attitudes and ways of thinking. Many people had ideas I did not anticipate, like how to help women with disabilities. I had never thought about this before.
The organizations and people who came together were united in our commitment to fight challenges and injustice: the abuse of women, destructive governments, physical harm to men and so many other problems. Our situations are different depending on where we live. And we all have different solutions, which is really interesting.
These are a few lessons I learned:
1) If we really want to empower women and solve the world's problems, we have to be inclusive, which means making sure that all of us—black, white, disabled, lesbian, adult, adolescent—are safe and on the right path.
2) Using technologies like digital storytelling and PhotoVoice is necessary to solve the world's problems. We need to share our stories across borders.
3) It is important for our work to be sustained through generations. We need to evaluate each and every part of our work so that we know how much progress we have made and how we can improve upon things we might not be doing so well.
4) Investing in girls is so important, and girls need to be more visible.
I loved coming together with girls from Ethiopia and from so many other countries to discuss our challenges. We need a safe place to build our talents and creativity in order to develop solutions that will improve the world. Being at the AWID Forum helped us move beyond our own worries in order to focus on what we can contribute to our community, society, country and our world. Maybe we will become leaders and donors some day.
I believe that girls are the best people to educate others about poverty, civil war and conflict. I know that we can build a peaceful and well-developed world.
Traveling to Istanbul for the AWID Forum will remain one of my greatest memories. In addition to the excellent conference, I had the best time on a boat ride. And I really like Turkish pizza.
Naboni Etansa is a 17-year-old girl from Ethiopia. She is a young leader in the School Girls Empowerment Network, a project of AJWS grantee Jerusalem Children and Community Development Organization (JeCCDO).