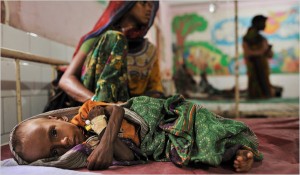 The headline of Sunday's front page New York Times article reads, "India Asks, Should Food Be a Right for the Poor?" Of course it should. The article recounts the sobering fate of India's countless citizens who, after enduring extreme starvation and malnutrition, have fallen through the country's social safety net.
An excerpt from the article:
"They should receive subsidized government food and cooking fuel. They do not. The older children should be enrolled in school and receiving a free daily lunch. They are not. And they are hardly alone: India's eight poorest states have more people in poverty — an estimated 421 million — than Africa's 26 poorest nations, one study recently reported."
It goes on:
"[India's] food system has existed for more than half a century and has become riddled with corruption and inefficiency. Studies show that 70 percent of a roughly $12 billion budget is wasted, stolen or absorbed by bureaucratic and transportation costs."
Changing the food system must become a national priority to ensure India's survival and the humanity of its citizens. The current food crisis isn't caused by a lack of resources. Rather, the macro, government-run distribution process just isn't working. Food isn't getting into the bellies of people who need it most. The New York Times article only scratches the surface on how local, grassroots efforts can fix what's gone wrong. By supporting local farmers rather than multi-national corporations, and by taking a human rights-based approach to food policy, India could feed its population sustainably and equitably.
One organization in India that is working to shift the power structure and create change from the ground up is Kislay, an AJWS grantee that promotes the rights of urban communities in slum areas of New Delhi. The organization's programs focus on housing, education, the regulation of employment and social security for domestic workers and, most urgently, on the right to food. Kislay uses a participatory theatre technique—"theatre of the oppressed"—to show Delhi slum dwellers how to advocate for their food rations and their right not to be evicted.
Listen to AJWS's executive vice president, Robert Bank, discuss his recent experience in India where he learned about Kislay's work to achieve food justice.