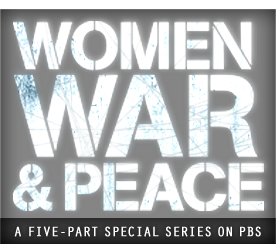 "Landscapes that were absent the female." This is the way Abigail Disney saw war-affected countries being depicted in the mass media. She had an eerie feeling of, "where are the women?" They were there; they just weren't "in the frame."
This past Friday, several AJWS staff members joined a public conversation with Abigail Disney about her new PBS five-part mini-series, "Women, War and Peace," which will air Tuesday nights, beginning on October 11th. AJWS has long focused on advancing the status of women in the developing world (see our policy paper "Empowering Girls to End Violence: On-the-Ground Lessons from India for U.S. Development Policy" and our most recent issue of AJWS Reports), so it was a rare treat to learn from someone whose work deeply complements our own.
Disney says her goal in making this series was to honor the women whose lives are affected by war, and to hold up a few examples that represent thousands of others. She hopes to "explode" the idea of war; to flip the traditional male lens that is used to understand the force and impact of war. "How would your cost/benefit analysis change if you looked at war through women's eyes?" asks Disney. While the media rarely offers a window into women's lives during wartime, she says that the primary victims of war are women and children.
One episode from "Women, War and Peace," entitled, "I Came to Testify," tells the story of 16 Bosnian women who, after being imprisoned, stepped forward to testify that they had been raped during the war. All but one of the witnesses chose to be anonymous. Their faces were obscured, and they were represented by a number. "You couldn't determine their age, or hear the anger in their voices," says Disney.
In Liberia (where AJWS will be hosting a Study Tour in March 2012), rape is used as a weapon of war, as it is in so many other parts of the world. In the episode, "Pray the Devil Back to Hell," thousands of Liberian women—Muslim and Christian side by side—dressed in white and gathered at the market to protest the violence. "The women of Liberia want peace now," they said. One woman recounted that she told her family before going to the protest, "If I should get killed, just remember I am fighting for peace."
When Disney began making "Pray the Devil Back to Hell," she says she had no interest in filmmaking. Coming from a family that created a film empire, she felt like she was "asking for embarrassment" if she became involved herself. But an initial trip to Liberia launched the idea for the film. She showed up with a bunch of women, she says, and they asked if there was something they could do.
"People often seem to feel that rape and violence against women during war is inevitable," says Disney. But "no behavior is inevitable…How do we change anything without changing our expectations?"
Currently, the "Women, War and Peace" series has had 500 screenings in 60 countries on seven continents, and it is continuing to build momentum.
"There's so much possibility in the way women organize, it's like wild fire."
The goal: for women to see themselves as vital political actors. Disney says she "loves grassroots organizations" and references partnering with "tiny organizations hidden like jewels" in the countries in which she has been involved with the film. Her mentality is that "peace is not an event, it's a process, a series of choices we make every day." All of us should "add our energy to what's already happening."