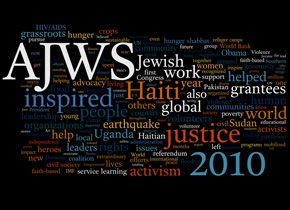 This word cloud is a visual representation of all the text in AJWS's new 2010 online annual report (pretty neat!). I hope you'll take a few minutes to check out the report itself, but for readers-on-the-go, enjoy this quick snapshot of AJWS's work for global justice in 2010.
As you can see (click the word cloud for more detail) AJWS's impact spanned the globe. Haiti looms large and so do AJWS's commitments to grassroots change, sustainable solutions to hunger and advocacy for peace in Sudan. "Jewish" is also central, of course.
If you're reading this, your work is probably in the cloud, too—whether you contributed to Haiti earthquake relief, volunteered in a developing country, participated in Global Hunger Shabbat, came to an event or took action with one of our advocacy campaigns.
Scroll through the full annual report to get a recap of 2010's issues and accomplishments. Writing about this work really inspired me this year. I hope being a part of it moved you, too.
(Thanks, Wordle, for the cloud-generating tool!)