Eight months ago, I stood shivering with my Ugandan colleagues on the steps of the Massachusetts federal court house. We had just witnessed the first hearing in the case Sexual Minorities Uganda (SMUG) v. Lively—a suit filed by a group of Ugandan LGBTI rights organizations against American evangelist Scott Lively for his role in inciting the persecution of LGBTI Ugandans. Lively is well-known for advocating that homosexuality should be criminalized around the world.
At the time, we were cautiously optimistic that the case would move forward. Today, we are celebrating.
SMUG's suit, litigated by the Center for Constitutional Rights, claims that Lively helped facilitate the repression of LGBTI Ugandan's human rights by—among other things—aiding in the creation of Uganda's notorious Anti-Homosexuality Bill. Lively says he even met with Ugandan lawmakers when they were drafting the bill, which aims to make homosexual acts punishable by death. The proposed bill would make life even more dangerous for LGBTI Ugandans, who are already vulnerable to harassment, death threats and assault.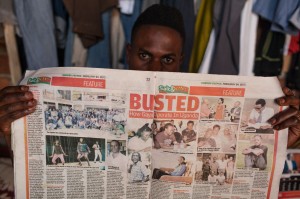 The case is based on the Alien Tort Statute, which allows foreign citizens to sue for violations of international law via lawsuits in U.S. federal court. Lively pushed for the case to be dismissed, questioning whether persecution based on sexual orientation or gender identity actually violates international laws.

On that cold January day at the court house, both sides put forward their arguments and Judge Michael Ponsor was left to decide whether the case should move forward. We didn't know when a ruling would come, but we were hopeful that it would be in SMUG's favor.
On Tuesday, Judge Ponsor announced that this landmark case would move forward; he had found none of Lively's arguments persuasive. Instead, he made a declaration upholding not only the right of SMUG to bring the case, but affirming that "widespread, systematic persecution of LGBTI people constitutes a crime against humanity that unquestionably violates international norms."
The case isn't over, but this initial ruling means a lot—not just to the Ugandan LGBTI advocacy organizations that AJWS supports, but to LGBTI advocates around the world. Here's what two of our Ugandan grantees, who prefer not to be named for security reasons, had to say:
"This ruling is a very important message of hope to LGBTI Ugandans …  Daily persecution by the extremist hate campaign Lively started here in Kampala five years ago has reduced us to being less than human and made us victims of horrendous hate crimes."

"It is indeed a great achievement for the movement in Uganda for the U.S. court to declare that persecution of LGBTI persons is prohibited under international law … U.S. evangelicals have played a huge role in fueling homophobia in Uganda and in other parts of Africa … I am overjoyed."
We will be watching closely as the case continues to unfold. You can read more about the Anti-Homosexuality Bill on our blog and more on the Lively case at the New York Times.
Gitta Zomorodi is an AJWS Program Officer for Africa.