This week, my AJWS Los Angeles Global Justice Fellowship cohort and I are preparing to depart for India to meet with local human rights activists working to overcome poverty and injustice in their own communities. I have been reminded these past few days (especially in the countdown to our departure from LAX) that I am experiencing a familiar feeling. It is so easy to get fixated on the packing list, the details of travel insurance, Malarone™ prescriptions and visa applications. Do I have the right clothes…my trusty travel pillow? …and where did my universal travel plug go?
And when I was traveling for work to the developing world it was even worse: do I have the in-country contact phone numbers, the materials for our field office, the conference freebees and photo consent cards, and all the necessary files and PowerPoints backed up on my computer in case rolling blackouts restrict my internet access?
So that familiar feeling I am having… It is a feeling of surrender—or the need to. The intention I set for myself, and I encourage for all of us, is to surrender. Surrender and accept now we will forget something. Surrender to the likelihood of lost luggage, power outages or delayed trains in India and trust that it is our safety, not material possession that matters most. Surrender to the fact that unlike previous travel, we do not control the itinerary (and the uncomfortable truth that for the first time in my life I will be rolling up to a site in a bus with a hoard of foreigners, even more conspicuous than I might otherwise be alone or with one of my local colleagues or friends.)
Because once we surrender then I believe we can allow a deeper preparation to begin in our hearts: a more substantive preparation that reminds us why we travel: not for the sake of travel alone, but to have our perspectives on the world transformed. I think that transformative step requires a certain degree of surrender of our own preconceived notions, worries and biases to be fully present and allow for such change to take place and deepen our understanding of the world and its people; to fully experience, learn about, celebrate and struggle with the new and the different.
Which brings me to a second intention for us: kavod ha'briyot, respect and honor for all people. A key to which, I believe, is creating connection; moving beyond the easier path of noticing all that sets us apart and uncovering the similarities that connect all of humanity, despite the differences in circumstance, culture or country. When we meet human rights activists let us be attuned to shared values, tactics, struggles and goals as well as appreciate the contextual differences. And seeing similarities is no small task in the face of abject poverty the likes of which, I am certain I have not seen, despite my previous travels. When we bear witness to inequality, suffering and pain—let it be a path to compassion and recognize that it is never the entire story. Just as each of us is multifaceted and layered, so too are the people we will meet.
While my ultimate surrender sometimes does not truly happen until somewhere over the Atlantic at 30,000 feet, it comes inevitably and I suppose fortunately we have 20+ hours of flight time to prepare our hearts for the experience to come and surrender to all that it will offer.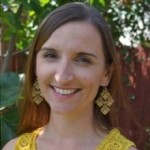 Amy Grossman, AJWS-LA Global Justice Fellow, is a public health professional and women's health advocate with more than 10 years of domestic and international nonprofit experience.
The AJWS Global Justice Fellowship is a selective, year-long program designed to inspire, educate and train key opinion leaders in the American Jewish community to become activist leaders in support of global justice. Learn more about the Fellowship.