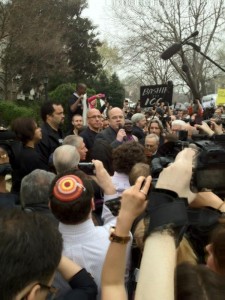 Friday started off as one of those days in which I remember why I decided to move to Washington, DC. At Sherman Circle, a block from the Sudanese Embassy, hundreds of activists gathered to protest the Sudanese government's blocking food aid. The rally called on the United States and world leaders to stop the violence and prevent hundreds of thousands of people from starving. Organized by the Enough Project and United to End Genocide, American Jewish World Service joined numerous other organizations in coming together to raise our voices. The energy was ecstatic as we marched toward the embassy chanting. Soon, we were joined by George Clooney, numerous members of Congress, Martin Luther King III, John Prendergast from the Enough Project, Tom Andrews from United to End Genocide, NAACP President Ben Jealous, Rabbi Gutow of JCPA, Rabbi Saperstein of the RAC and our very own Ian Schwab, Associate Director of Advocacy for AJWS.
After speeches from each of them, they joined together on the steps of the Sudanese Embassy, prompting the United States Secret Service to warn that if they did not move that they would soon be arrested. Defiantly, they stood together and, one by one, they were arrested and escorted into the back of a police van.
In Pirke Avot, the teaching of our ancestors, it says "Rabbi Eliezer said, 'Other people's dignity should be as precious to you as your own.'" Watching these great leaders of my generation stand up for the dignity of those who have no voice was truly inspiring. For if we do not stand up for the dignity of those in Sudan, who will? Take a moment and send a letter to President Obama and join those who stood on those steps on Friday.