Originally posted on the Global Circle blog.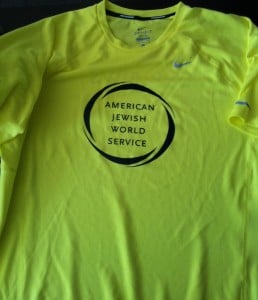 This Sunday, November 6th, 10 runners from the inaugural AJWS Marathon team will embark on a journey that will test not only their physical but mental strength as well: The ING NYC Marathon.
For the past five months, these ten runners have endured countless miles, consumed countless packets of GU and gallons of gatorade and have raised over $32,000 for AJWS.
Some might think these 10 runners are crazy. 26.2 miles really? However, if you come cheer on Team AJWS this Sunday as they take on all five boroughs, you'll see in their face why they run. You'll see it in the crowds cheering on friends, loved ones and even strangers. Most importantly you'll understand that while everyone has their own motive for running, they all share one common reason: to make the world a better place by helping marginalized communities in the developing world realize their human rights!
Join AJWS as we cheer on our fearless marathon team! You can't miss the team – they're wearing neon yellow shirts. If you see an AJWS runner, take a picture and send it to Katie Tilson at ktilson@ajws.org