Securing convictions for crimes against humanity in Guatemala
---
In 1981, during the Guatemalan armed conflict, 21-year-old political activist Emma Molina Theissen was arrested, brutally raped and tortured for nine days by the military. She managed to escape, but the army kidnapped her 14-year-old brother, Marco Antonio, to retaliate. He was never found. Marco Antonio was one of an estimated 45,000 people "disappeared" and 200,000 murdered during this horrific chapter in Guatemalan history. No high-level officials responsible for these crimes has ever been brought to justice—until now.
On May 23rd, 2018, Guatemala's High Court convicted four former high-level military officers and sentenced them to decades-long prison sentences for the atrocities perpetrated against the Molina Theissen siblings nearly four decades ago.
"This sentence dignifies the people killed, tortured and disappeared, and their families who have been mired in a long oblivion by the justice system." —Emma Theissen de Molina, mother of Marco Antonio and Emma
Two of AJWS's grantees played a significant role in advancing this case. Unidad de Defensores y Defensoras de Derechos Humanos en Guatemala (UDEFEGUA)—an organization that supports activists whose lives are at risk—protected the family and their legal team in court each day, fending off constant threats and verbal abuse by the military and the media. And Prensa Comunitaria, a group that fights for free press, covered the proceedings to counter the mainstream media's false accusations that the family was pursuing the case solely out of economic interest.
Even amid ongoing political corruption, this victory has written a new chapter in the history of human rights in Guatemala, giving the next generation hope that such atrocities will not happen again.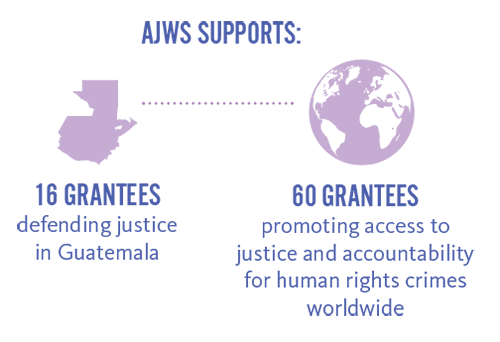 One of the court's resolutions was to declare October 6th—the day Marco Antonio was abducted—a national day of "robbed childhoods," recognizing all the youth whose lives were cut short. It has also given hope to activists in countries like Sri Lanka and Mexico who continue to seek justice for thousands of people who have been disappeared and murdered with impunity. For AJWS, this victory reinforces our belief in the power of social movements, as we renew our support for the rule of law and legal strategies to address mass atrocities around the world.
Read more of our annual report
Feature photo courtesy of AP Images