Rising against authoritarianism in Nicaragua
---
A powerful movement is sweeping Nicaragua.
Hundreds of thousands of people have flooded the streets in recent months to resist the authoritarian rule of president Daniel Ortega. Over the last 11 years, Ortega's brutal regime has censored the press, done away with term limits for elected officials and repressed opposition parties. In April, when he reformed social security to increase the cost to workers while reducing payouts, the nation decided it had had enough.
On April 18th, an emerging movement of university students led protests calling for Ortega to step down. With his power and reputation at stake, Ortega deployed the police and other armed men to silence the demonstrators—killing 42 people in the first week. The murders opened the floodgates, sending Nicaraguans from all walks of life to the streets in waves of mass protest. As the movement grew, so did the death toll. Nicaraguan police have opened live machine gun fire on marchers, detained and tortured students, and murdered more than 500 people, 16 of them in a mass attack on Mother's Day.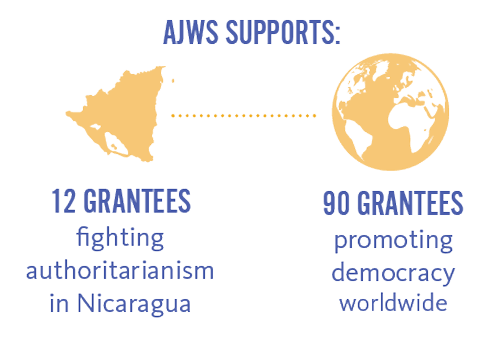 The Inter-American Commission on Human Rights has accused the armed bodies of a "disproportionate use of force—including lethal force" aimed at young protestors. Ortega's administration engaged in a number of dialogue sessions meant to create a peaceful solution to the violence—yet he has refused to order a ceasefire or even to acknowledge the brutality happening in his name.
During one dialogue, Lesther Alemán, 20, spoke boldly to the President: "Can you sleep at night?" he asked. "We have not slept soundly. We're being persecuted, and we're students."
On June 15th, activists led a nationwide worker strike that shut down the capital city of Managua. Faced with the prospect of economic catastrophe, Ortega finally agreed to allow the Inter-American Commission to investigate and identify those responsible for "all death and acts of violence." And yet, the following week, his forces poisoned protesters with sulfuric acid and unleashed machine gun fire—still determined to repress citizens who want to change their country for the better.
"I am not afraid." —Felix Maradiaga, a leading activist in the protest movement and Director of the Institute of Strategic Studies and Public Policies (IEEPP)
He also passed an "anti-terrorism law" that the UN has condemned as a tactic to muzzle voices of opposition. More than 600 people who have protested or aided protesters are now being held as political prisoners for so-called "terrorism." An estimated 1,000 more have disappeared. While the law has forced many of the activists to work in secret, because they can no longer meet or speak out in public, mass protesting has continued unabated.
AJWS has supported activists on the frontlines of this historic uprising for democracy and justice.
AJWS's grantees are providing safe harbor and psychosocial support to persecuted youth activists—some of whom were engaging in the dialogues with Ortega—so they can continue their organizing and process the traumas they have suffered. We are also enhancing their cyber security to fend off hackers and online attacks. And our grantees are supporting the grassroots youth movement to develop visions and plans for public policy. If Nicaraguans secure a future without Ortega, these youth are ready to play a powerful role in shaping their country into a functional, transparent and accountable democracy.
Read more of our annual report
Photograph by La Lucero Arte Social