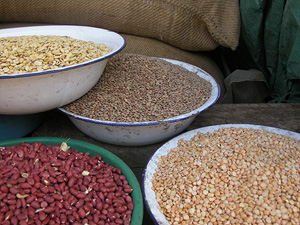 We all wish a new year will usher in some hope for alleviating global hunger. But earlier today, a BBC news report and an IRIN report revealed that while the rate of global hunger has declined this year, it still remains "unacceptably high," according to the UN's Food and Agriculture Organization (FAO).
The FAO estimates there are 925 million undernourished people in 2010, compared with 1.02 billion in 2009. But it warned that the fight to reduce hunger would face additional obstacles if food prices continue to rise—something AJWS knows all too well.
Want to be part of the solution? Contribute to AJWS's Reflect Back | Fast Forward campaign by donating the "savings" of your Yom Kippur fast—the money you would ordinarily spend on a day's worth of food—to support people in the developing world for whom fasting is not an annual ritual but a chronic reality. Your donation will allow AJWS to expand its grantmaking to grassroots organizations that are teaching sustainable farming, protecting land from degradation, securing access to water and high quality seeds, and ensuring that local farmers have the means to store, market and sell their harvests. Make your donation today.