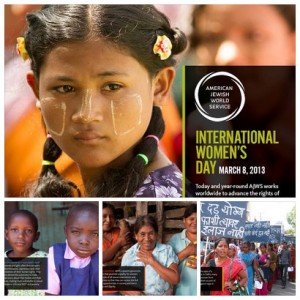 Today is International Women's Day—an important date on AJWS's calendar! It doesn't get a lot of fanfare here in the U.S. but it means a whole lot for women and girls around the world who are struggling against injustice.
In the communities AJWS supports, International Women's Day is a day to honor brave women who are demanding equal rights and working to end poverty and oppression. It's a day to celebrate determined girls who grow up to be leaders, against all odds. International Women's Day is about empowering every young girl and every woman—no matter where she is born—to believe that she can make a difference.
To help AJWS spread this message, view our photo gallery on Facebook of extraordinary women and girls worldwide who are working to make the world a better place—and then share it with your friends!
Today is also a great occasion to check out two new AJWS publications highlighting the amazing accomplishments of women and girls:
Inside, you'll read about women changemakers who are protesting violence against women in India. You'll read about Kenyan adolescent girls who are organizing to stop rape in their neighborhoods; about lesbian women working to end stigma and discrimination; and about an organization that empowers young women to make choices about safe sex, marriage and education. You'll also find out how AJWS invests its resources to effect change for women and girls.
You can show your support for these courageous women and the world that they are working so hard to create. Take a look at our collection of inspiring photos, then spread the word by sharing them with your friends.
Celebrating International Women's Day is a very Jewish thing to do. Our tradition teaches us that every human being has inherent dignity, and Jewish women have been at the forefront of the fight for equal rights. Helping women achieve equality and change the lives of others is a noble expression of this very important ideal.
On this special day—and every day—we at AJWS thank you for your commitment to global justice.