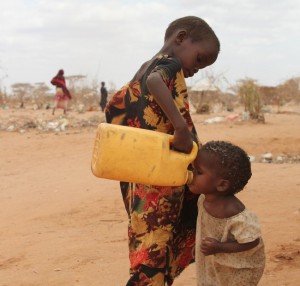 There's been considerable coverage of the East Africa famine over the past two weeks. In his NY Times op-ed last Sunday, Nick Kristof wrote about a famine-related subject that, for many people, is an afterthought: the unspeakable violence against women and girls that escalates in the face of food insecurity. Kristof writes:
"At the very moment when you think you're secure, you encounter a nightmare broached only in whispers: an epidemic of violence and rape. As Somalis stream across the border into Kenya, at a rate of about 1,000 a day, they are frequently prey to armed bandits who rob men and rape women in the 50-mile stretch before they reach Dadaab, now the world's largest refugee camp. It is difficult to know how many women are raped because the subject is taboo. But more than half of the newly arrived Somalis I interviewed, mostly with the help of CARE, said they had been attacked by bandits, sometimes in Somalia but very often on Kenyan soil. Some had been attacked two or three times."
The situation in Kenya and Somalia is indicative of a trend all over the globe. Take Haiti, for example. Women and LGBT people were among the most vulnerable Haitians even before the earthquake hit. Now, after spending months in tents and IDP camps, both groups have faced a hailstorm of abuse, violence and neglect, and have struggled tirelessly to receive critical support from the international community.
It's easy to see natural disasters and food insecurity as isolated problems in need of a quick fix. But, as we know, these problems are symptoms of larger structures of injustice and ongoing cycles of oppression. Kristof's article draws attention to this well, and it's something we think about at AJWS all the time.
In October, AJWS is teaming up with the Skirball Cultural Center to present Women Hold Up Half the Sky: Turning Oppression into Opportunity for Women Worldwide, an exhibit based on the award-winning book by Kristof and Sheryl WuDunn.
Join AJWS in Los Angeles to see this exhibit, hear from Kristof himself and explore the critical issues at stake for advancing the status of women and girls worldwide. Click here for details.