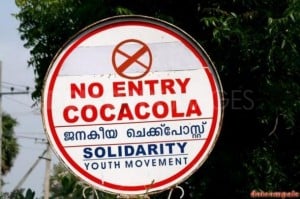 Today is World Water Day and, exactly one year ago, there was some big news in India: a government report found that Coca-Cola's bottling operations had caused $48 million in damages for depleting and polluting India's water supply. Then, just last month, India's state legislature in the southern state of Kerala passed a law allowing people who had been affected by Coca-Cola operations in Plachimada District to seek compensation from the company. The action was welcome by communities throughout India in addition to being celebrated at the international level as an important step towards holding multinational corporations accountable for their actions. Yesterday's New York Times article sheds some light on this.
Since 2002, AJWS grantee Global Resistance has coordinated the International Campaign to Hold Coca-Cola Accountable in India.  Coca-Cola is the target of communities across India who have accused the company of exacerbating water shortages – through locating its plants in "water stressed" areas as well as pollution of groundwater and soil.  Global Resistance successfully assisted local farming communities in the Plachimada in shutting down the Coca-Cola plant in 2004 after significant water shortages and contamination of ground water in the surrounding farmlands.
In addition to the ongoing work in Kerala, Global Resistance is coordinating two campaigns in Kala Dera, Rajasthan and Mehdiganj in Uttar Pradesh – both sites of Coca-Cola bottling plants that have caused extensive damage to rural livelihoods in the area. Both areas have experienced a severe drop in groundwater levels since Coca-Cola started operations – a 22 meter drop in Kala Dera and a 9 meter drop in Mehdiganj. Although Coca-Cola is quick to pin the decrease in water levels on climate change and other outside interferences, the fact remains that in the nine years prior to Coca-Cola's bottling operations in Kala Dera, groundwater levels dropped just 3 meters in comparison to the 22 meters after the entry of the company.
Global Resistance, along with other members of the international campaign, has successfully pressured Coca-Cola to undertake assessments of its work in India that have exposed the company's irresponsible actions.  As a result, Coke pledged to make its operations "water neutral" by 2009. This ambitious goal proved to be little more than a PR exercise and Coca-Cola soon itself retracted its pledge in 2008 and published a statement saying that it would use the term "water offset" instead. However, the rhetoric coming out of the company continues to center on "water neutrality" in the international area as Coca-Cola attempts to save its image.
Repeated statements made by the company in India will indicate that the groundwater levels in Kala Dera are actually increasing – a statement that is refuted by government data and the experiences of farmers that are losing their livelihoods. The company spends in excess of $2.5 billion annually on public relations, attempting to convince the public that it has responsible practices and is investing in water conservation efforts. To the woman next to the Kala Dera plant who has to walk several kilometers to find potable drinking water for her family, the falsehood of this statement borders on life-threatening.
Organizations such as AJWS grantee Global Resistance are at the forefront of community organizing against Coca-Cola's irresponsible actions in India. Connecting local farmers and rural women to large international campaigns, Global Resistance and the International Campaign to Hold Coca-Cola Accountable in India are working to protect the fundamental rights to life and livelihood on behalf of the communities that depend on water for their survival. Get involved by supporting them at Coke Justice » Join the Campaign.