With July 4th approaching, I am writing to affirm that securing the promise of democracy for the people of the world is on my mind every day, as I know it is for you. Without democratic rights, neither we nor the activists we support can fight to create a more just world. That's why upholding democratic rights is our very top priority at American Jewish World Service.
As American activists who care about our country and the people of the world, we must be honest with ourselves—our own democracy is being challenged today in far-reaching ways as elected officials move to restrict voting rights and make it easier to overturn elections. We also must acknowledge that our democracy was flawed from the start—excluding enslaved Black and brown people and women from its promise.
Yet it is the very promise of democracy that inspires us to stand for justice everywhere.
Tragically, when it comes to democratic rights, too many countries are moving in the wrong direction. As I confer with my colleagues on the global AJWS team and with the human rights activists we support around the world, their warnings are crystal clear. The world is battling two powerful viruses working in tandem: COVID-19, which is killing humans, and authoritarianism, which is killing democratic rights and democracies.
Our global AJWS team is not the only one to diagnose this dual pandemic. In April, PEN America released a report noting a sharp uptick in attacks on free expression around the world. In February, Human Rights Watch found that 83 countries were using the pandemic to crush democratic rights. And in March, Freedom House called this "a long…deepening democratic recession." This pro-democracy think tank reported that for 15 straight years, democracies have been declining—and 75 percent of humans now live in countries where freedom is dwindling.
Halfway through the calendar year of 2021, the list of assaults on democratic rights is long:
I've been horrified for months by the results of the bloody coup carried out by Burma's military in February. They put Aung San Suu Kyi under house arrest, ousted the country's other elected leaders, killed and imprisoned activists and unleashed new waves of deadly violence against ethnic minorities. They have even begun to imprison and kill their own poets.
I've closely followed the heartbreaking crisis in Haiti, where Jovenel Moïse refused to step down when his term as president ended in February. Ruling by decree since Haiti's parliament dissolved over a year ago, he has dismantled state institutions designed to keep presidential powers in check. Tragically, he is now pushing a constitutional referendum and elections that have no hope of being perceived as free or fair, further undermining Haiti's democracy.
And I was devastated by the crackdown on democracy in Uganda, where Bobi Wine—the main opposition candidate running to unseat President Yoweri Museveni after his 35-year grip on power—was detained, just weeks before a January election. Wine's arrest kicked off months of threats and other arrests, as Museveni continues to muzzle his opposition and human rights leaders.
Sometimes this bitter news hits home especially hard. Nicholas Opiyo, a colleague and friend who is a well-known attorney and human rights activist, was abducted by Ugandan authorities before the Ugandan election and then quickly released after a global uproar. Today, Nicholas has regained his freedom of movement, and he is again using his influence to shine a light on injustice—the Ugandan government's torturing and killing of people who want nothing more than democracy and human rights.
In every country where there is a crackdown on democracy and human rights today, you can find activists like Nicholas fighting for justice. I was deeply moved by a quote in The New York Times from a 23-year-old frontline defender in Burma named Ko Thet Aung, who said of herself and her fellow democratic activists flooding the streets, "The more they crack down, the more we are motivated to fight back. We are from Generation Z, but I would call ourselves Gen-P: Generation Protection. I will die protecting my country at the front lines."
Following the examples of Nicholas and Ko Thet Aung, we must be steadfast in our support of democratic rights, and especially of the activists who are putting everything on the line to defend democracy. For decades, we witnessed democratic rights expand, from the fall of communism in the former Soviet bloc countries, to the defeat of apartheid in my homeland, South Africa, to Burma—where a new parliament was elected in 2015 after a long period of military rule. Now, we are seeing democratic rights again under attack and shrinking, especially during the COVID-19 pandemic, which governments continue to use as an excuse to undermine the rights of their peoples.
The best thing we can do to stop this global attack is to support young activists fighting for democracy on the front lines. We must:
Stand by Nicholas and other activist leaders
Invest in youth movements for democracy
Insist that the U.S. use its power and voice to stand up for the rule of law everywhere
Refuse to be silent when we see our own democracy attacked
To take up our ancient obligation to repair the world and our commitment to upholding the rights enshrined in the Universal Declaration of Human Rights, we need to strengthen democracy. Because, as Emma Lazarus put it, "Until we are all free, we are none of us free."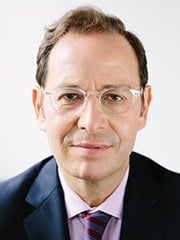 Robert Bank is President and CEO of American Jewish World Service, the leading Jewish organization working to promote human rights in Africa, Asia, Latin America and the Caribbean.. Robert has spent his career championing human rights as an attorney, activist and leader. He joined AJWS as Executive Vice President in 2009 and previously served in New York's municipal government and in the leadership of GMHC—one of the world's leading organizations combatting HIV/AIDS. Robert has been honored with GMHC's Lifetime Achievement Award and the Partners in Justice Award from AVODAH: The Jewish Service Corps.