The COVID-19 pandemic has laid bare in alarming ways how unprepared the world has been to weather such a storm. Health care systems have buckled or broken under the strain of surging cases. Prolonged isolation and uncertainty has spawned a global mental health crisis, and people with other medical conditions have gone untreated.
The pandemic has been especially hard on youth: Students have struggled to transition to virtual learning, and young people confront a tumultuous and uncertain future. In India, girls and young women have experienced the brunt of this phenomenon—many facing increased pressure to drop out of school and get married, particularly if their parents lost their jobs due to the pandemic. The gender gap—women dropping out of the workforce in record numbers and taking on the lion's share of household chores and childcare—widened, and domestic violence rates have skyrocketed.
In Bangalore, India, an organization supported by AJWS called Samvada is making sure that—through this chaos, sickness and insecurity—young people can still pursue better futures. Samvada, which means "conversation" in the local Kannada language, was founded 30 years ago as a youth support, empowerment and rights organization. Samvada supports and mobilizes young people to build the lives they choose while transforming society by challenging patriarchy, prejudice based on caste and religion, and other forms of discrimination.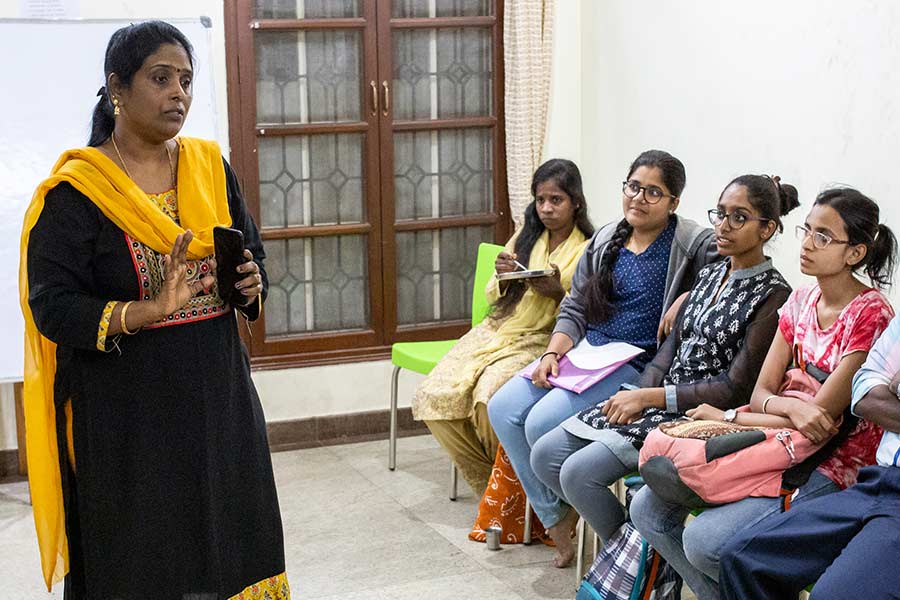 Avoiding marriage and staying in school despite enormous pressures
When the pandemic hit in 2020, Samvada staff and youth leaders had to adapt quickly to new challenges. For students who were pressured to drop out of school or couldn't attend classes remotely, Samvada provided financial support for school fees and Internet access.
Samvada employs youth mentors who build long-term relationships with young people and, sometimes, their families. The mentors teach young people how to negotiate with their parents for the right to make their own decisions about their education, marriage and pursuing the career of their choice. Mentors built on existing relationships with young mentees during this stressful time, supporting students as they negotiated with their parents to stay in school, delay marriage and pursue their own dreams.
Preparing young people for a changing world while building a better one
Samvada's Youth Resource Centres (YRCs) are spaces for young people to gather and explore their inner lives, outside of the rigid expectations often set by their families and teachers. These unique spaces are often the only place where young people are asked about their dreams and opinions, and where they can form and learn to articulate their own views. Samvada reports that young people who had participated in YRCs often fared better than their peers during the pandemic because they had plenty of practice speaking up for themselves, gaining support from one another and seeking outside support when they need it.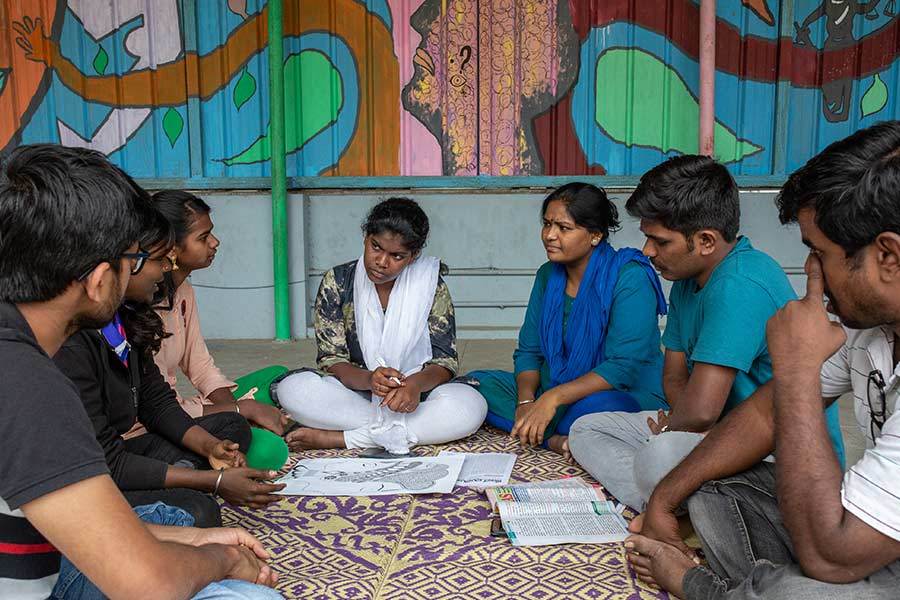 The YRCs adapted their approach to fit the changing environment, sometimes convening online or via phone during lockdowns. Given the economic insecurity facing young people about to head into the workforce and the movement in India toward the gig economy, the YRCs are focusing even more on career counseling.  The YRCs and youth mentors are intensifying their work to connect young people with career opportunities that align with their goals in life, so they don't feel pressured to latch onto short-term jobs that are less fulfilling. They work even more intensively with young people to help them determine their own aspirations.
Samvada's Baduku Centre for Livelihood Learning, a community college that offers livelihood support with courses in sustainable agriculture, counseling, journalism and more, just opened up a new campus earlier this year, and its staff have found that their approach is resonating with students more than ever. Career counseling is a big part of the work at Baduku College, and the faculty aim to prepare students for the futures and careers they choose.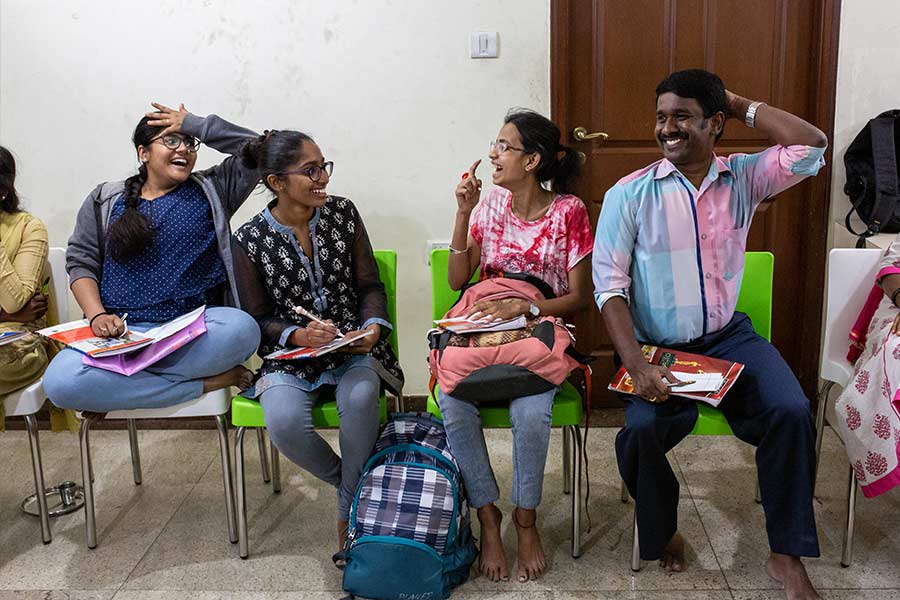 No matter what type of course a student takes at Baduku, the examining of traditional gender roles and views on caste is baked into the curriculum. Students taking a course in film will examine why women are portrayed in certain ways; sustainable agriculture students explore the division of labor between husbands and wives on farms as well as the social expectations that dictate which castes are supposed to be farmers in society. Baduku students and graduates were prepared to question and combat the widening gender and caste gaps brought on by the country's strict COVID lockdowns.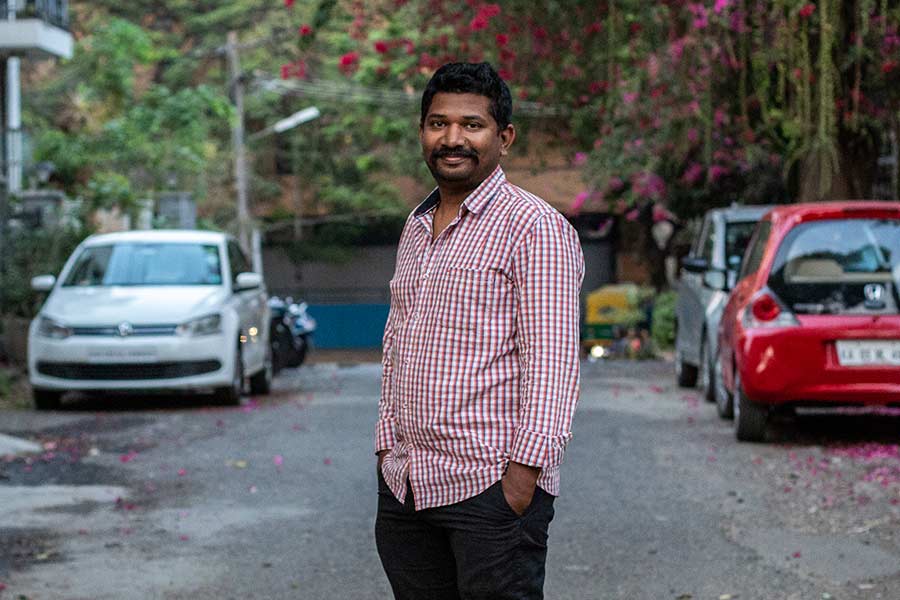 Samvada's programs have helped students narrow the gender gap in their own homes and communities. A special and wildly popular course, "Reserved for Men," teaches young men how to perform household tasks like cooking and cleaning—skills that, in India's patriarchal society, mothers teach to their daughters but rarely to their sons. The men who took this course were well prepared to take on an equal share of household work during lockdowns.
Youth leaders take charge to help their community
Samvada mobilized to fill the gaps in physical and mental health services during the pandemic as well. The uncertainty in the world, the stress of moving to online schooling, parents losing jobs, and the tragic loss of life have all taken a serious toll on young people's emotional health. Samvada youth leaders who had received training in counseling at Baduku College opened a hotline for peers in distress. They helped the callers when they could and referred those with more serious needs to certified mental health professionals. The organization covered some of the fees for those in need of long-term professional counseling, to ensure that money wouldn't be a barrier to receiving support.
Samvada staff also noticed that people with non-COVID related medical needs were having trouble getting medical attention. So, staff members reached out to their networks to create a pool of doctors with whom they contracted to help with telemedicine visits and prescriptions. Youth leaders fielded calls on the hotline to connect young people with the appropriate medical professional. Throughout the pandemic, the government started assistance programs for those who contracted COVID-19, but the system for getting benefits was bureaucratic and difficult to sign up for. YRC youth leaders who staffed Samvada's hotline helped people who were sick sign up for government benefits and delivered food rations to families in need.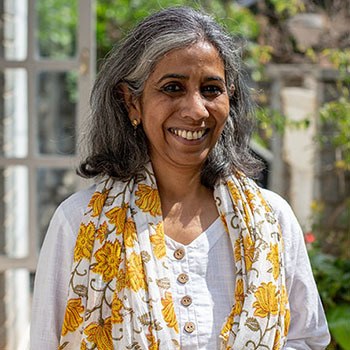 While staff members supported the young people involved in Samvada's programs, it was really the youth leaders themselves who ran these live-saving hotlines and support programs. Anita Ratnam, Samvada's founder and executive director, has always been adamant that Samvada does not prescribe anything to young people, but rather shows them more about the world, allowing them to form their own views and decide how they want the world to change. "The young person is always at the center," said Anita.
All photos by Sara Hylton