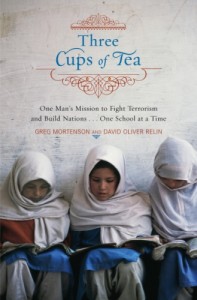 A few weeks ago, the Wall Street Journal featured a story about the fallout from the controversy around Greg Mortenson's memoir Three Cups of Tea. If you haven't been following the story, CBS's 60 Minutes did an investigation on Mortenson (a former mountain climber, humanitarian, founder of the Central Asia Institute, and best-selling author) only to find that many of his stories and activities stretch the truth or are outright misrepresentations.
The Mortenson controversy is beginning to have a ripple effect. People are questioning the credibility of other high-profile humanitarian activists, too. The Wall Street Journal honed in on Rye Barcott, the co-founder of AJWS grantee Carolina for Kibera. Barcott recently published It Happened on the Way to War: A Marine's Path to Peace, a gripping memoir describing his experiences co-founding Carolina for Kibera, juxtaposed with his service in the US Marine Corps. To promote his book and, more importantly, to raise money for Carolina for Kibera, Barcott has been crisscrossing the country on a book tour. But instead of being greeted by questions about Carolina for Kibera and what people can do to support its amazing activities, he has been greeted with suspicion: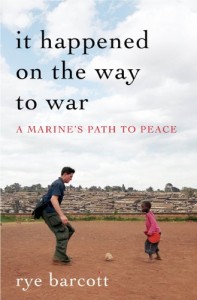 "Instead of using the book tour to just celebrate Carolina for Kibera and its 10th anniversary, Mr. Barcott finds himself questioned at many appearances about allegations that Mr. Mortenson's memoir contains false passages and that Mr. Mortenson's charity has mishandled millions in donations. Many people are scrutinizing Mr. Barcott's organization as never before."
I've visited Carolina for Kibera several times and have worked closely with its leaders. I know that it's a textbook example of a well-run, successful grassroots organization. But in the wake of the Three Cups of Tea debacle, I think increased scrutiny and accountability is a good thing. It forces organizations' leaders and staff to do their jobs better, and helps me do my job better, too. Greater accountability and transparency shows donors that their money is being used responsibly. As importantly, it helps organizations like AJWS take a critical look at what they're doing to figure out what's working and what isn't. It enables us to give better grants, improve our advocacy strategies, and more effectively place volunteers in the field.
AJWS's grants department has been tirelessly working on a new system to monitor and evaluate social change—something that is inherently challenging. In one of my former jobs, I worked at a refugee resettlement agency. The effect of our work was pretty easy to measure. We would measure the number of refugees who were successfully resettled from camps in Africa to the US. However, monitoring and evaluating the work that I do at AJWS is much more challenging. How do we measure AJWS's impact on creating a movement to promote natural resource rights in Kenya, for example? I'll be the first to admit that this process is quite difficult, long and, to be honest, not always the most fun. But it is necessary. At the end of the day, I want to know what I can do to be a more effective supporter of grassroots movements. Measuring the impact of my work is key.
This past year, AJWS has made remarkable progress creating a monitoring and evaluation system. It is not totally finished yet, but I now have most of the tools I need to analyze how grants we give to Friends of Lake Turkana and other organizations are contributing to the vibrant natural resource rights movement that our partners in Kenya would love to see one day.