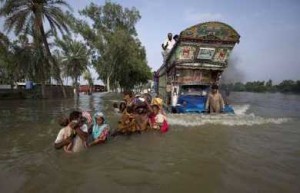 Though media coverage of the flooding in Pakistan is far less robust than the coverage of the Haiti earthquake, there's been some recent buzz in the blogosphere. In assessing Pakistan's crisis, many bloggers have asked some version of the question "Why is no one helping?"
Some suspect the reason is donor fatigue. Others stress it's because the death toll in Pakistan is lower than the number of casualties in Haiti (though human death is certainly not the only indicator of severity). Still others argue that compassion from Westerners (especially if they've maxed out with their donations to Haiti and aren't being bombarded with flood-related news reports) is a difficult sell since Pakistan's public image is so fraught with controversy.
Max Fisher of The Atlantic offers his own four reasons why Americans aren't giving to Pakistan flood relief, reminding us that in the aftermath of the Haiti earthquake, when a text message campaign raised $32 million within days—generating as much as $200,000 per hour—aid groups were awash in cash. Not so with Pakistan.
What hasn't been heavily discussed in the blogosphere is the toll that the flood is taking on Pakistan's food production. Reuters AlertNet reported that agriculture, the mainstay of the Pakistani economy, has been hit especially hard. The floods have destroyed or extensively damaged over 4.25 million acres (1.72 mln hectares) of land – including crops of cotton, rice, sugarcane, maize – Food Minister Nazar Muhammad Gondal told Reuters.
4.25 million acres. Think about it. That's a lot of land.
Efforts to distribute food aid to the millions of people affected by the floods are ongoing, but of the 14 million who are in dire need of urgent assistance, only 1.75 million have received the aid they need. The flood began nearly one month ago, and delays in food handouts are a direct result of the flaws in our international food aid system—delivery lag-time, inequitable distribution, and privileging agribusiness over local, sustainable solutions.
AJWS has set up an emergency flood relief fund to support the relief work of our existing grantee partners in Pakistan. Our partners have assessed needs in the affected areas and are already mobilizing to provide support for victims of the flooding. They are distributing food packets and essential medicines to those who are stranded, erecting temporary shelters, facilitating access to clean water in relief camps and working with government and local authorities to expedite larger-scale efforts.
While emergency food aid should be our immediate priority, we mustn't underestimate the resources that will be necessary to replenish Pakistan's local agriculture once the flood waters dry up.