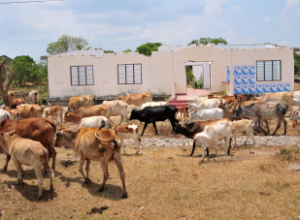 Stray cattle are destroying crops? Yes, it's true. And it's happening in northern Sri Lanka. Currently, Sri Lankan farmers are dealing with an estimated 40,000 stray cows, grazing in herds averaging between 20 and 300, that are damaging land used to grow food and support Sri Lankan livelihoods. Despite ongoing efforts by authorities to round up the animals, vaccinate them and return them to their owners, cows continue to roam freely, eating away at newly planted crops and leaving many farmers unsure of what to do.
According to an IRIN article, these cows were left behind when their owners fled fighting between government forces—a conflict that went on for more than two decades. In 2009, when Sri Lankans escaped the violence and ended up in Internally Displaced Persons camps (IDPs), the northern province of Sri Lanka was completely depopulated and the land was decimated.
Restoring agriculture after two years of chaos, destruction, displacement, and social upheaval, is a tremendous challenge, and the problem of stray cattle is just one of the many challenges farmers are facing.
AJWS's grantees in Sri Lanka are working with groups of women farmers—many of whom lost their husbands during the conflict—to collectively farm the land and produce their own natural fertilizers to forego expensive and environmentally damaging chemicals. These small-scale farming collectives allow women to keep their children with them while they work and to provide enough food for their family. What's more, they offer women the opportunity to provide locally grown food to their communities rather than paying inflated prices for agricultural products brought in from industrial farms in other parts of the country.
If the problem of stray cattle persist, however, these women may find that their livelihoods will be profoundly threatened.
"It's not until the morning that we see the damage," said Christine Gurukularajah, a 57-year-old farmer who cultivates 45 hectares of paddy and vegetables in Tharmapuram village in Kilinochchi District.
To date, the Food and Agriculture Organization (FAO) has already rounded up stray herds and has delivered about 20,000 animals to their former owners or to new ones. But there still a long way to go before the problem is solved.