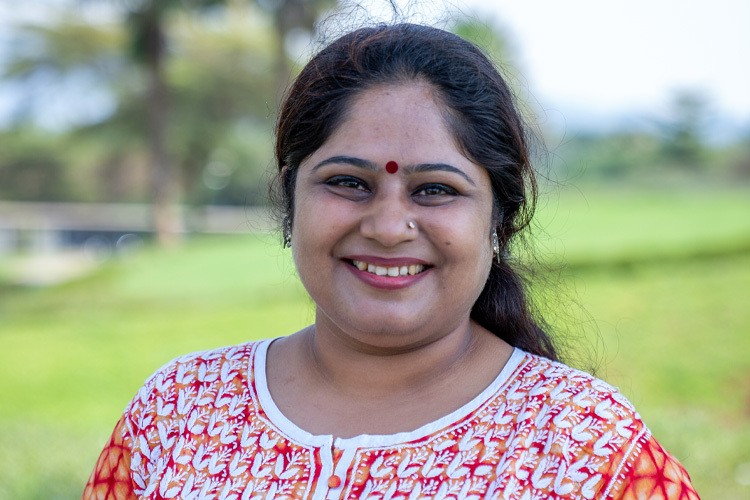 Growing up in Moradabad, Uttar Pradesh, Richa was taught the do's and don'ts of being a "good Indian girl."
"I actually had training on how to be a perfect wife and daughter-in-law according to Hindu society," she said with an incredulous laugh. "My grandmother and mother always told me to behave a certain way. 'Don't speak too loudly,' they'd tell me. 'You can't do that in your in-laws' house.'"
After completing her university studies, Richa worked in Saharanpur District, Uttar Pradesh counseling women and girls about gender discrimination and gender-based violence. They told her their stories of being barred from getting an education, of being turned away from medical care, of being denied the right to make choices in their own lives. Some of their stories felt uncomfortably familiar.
"I didn't realize what I had experienced growing up was gender-based discrimination," she said. "I had seen it with my own eyes. I had lived it."
Richa, now 41, is determined to help women and girls with little to no support system gain agency over their lives. Humsafar is a support center that provides survivors of gender-based violence with a suite of services including legal, medical, counseling, shelter, and skills training to help women gain financial independence. The center also works to educate local students on the issues and promote gender equality.
Working with Humsafar, an AJWS grantee in Lucknow, she is now able to apply lessons from a lifetime of activism that taught her how falling in line with patriarchy is not the only path. The biggest challenge, she says, is overcoming an entrenched mindset that disempowers women.
"There are lots of dos and don'ts for girls in our society," she said. "Even among the youth, there is a mentality that men should control everything. And there is no acknowledgment of non-binary persons."
The socio-political climate has also proven problematic. India has a long history of oppressing the minority communities and an appalling record on defending and protecting women's rights.
"It is very difficult to work against the patriarchal society when that mindset is supported by the eminent stakeholders," she said. "They will say things like 'A good Indian woman serves her husband and lives within the home. If you don't go out, then you won't be violated.' How can they say such things? These are the kinds of statements that support violence against women and other minorities. It is a disaster."
Despite these challenges, Richa has seen profound changes in the lives of the women and girls she has worked with over the years.
"So many of these women and girls came to us as survivors and now they are leaders in their own lives and their communities. It is awesome to see," she said, beaming.
Richa joined other AJWS grantees attending the Women Deliver conference in July in Rwanda. It was eye-opening to hear activists from around the world speak of gender-based violence in their own communities and their efforts to help young women and girls gain agency. She hopes to create a solidarity network in India of activists and funders to tackle oppression based on gender, race, caste, and religion.
"The generation before us worked very hard to dismantle the patriarchal and colonial mindset. I am here because of their efforts. They motivated us and now it is our turn to motivate the younger generation," Richa said. "I hope my little contribution will help women survivors and girls take control over their lives. And if we all keep pushing, then one day we will achieve our goals."