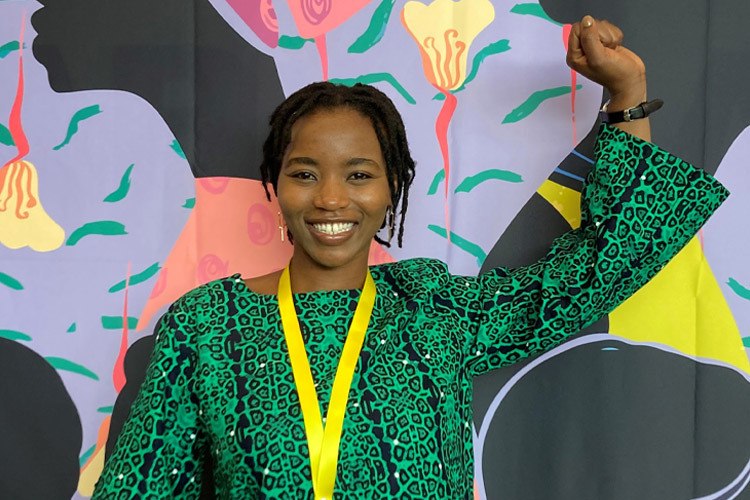 Shyleen recalls the moment that sparked her activism.  
A woman was giving birth in her backyard near her home in Kisii County, southwestern Kenya. As midwives hurried about helping her, passersby crowded around, gawping. What should have been a private moment turned into a spectacle. Even now, years later, the memory of it is still vivid – and evokes a red, hot fury.  
"I was so angry," Shyleen said, wincing. "Everyone was staring. It was so humiliating to see that happening in the late 2000s. It really disturbed me to see that this woman couldn't access health services in a dignified way." 
That wasn't an isolated incident; there were several others. By the time she made it to college, Shyleen knew exactly what path she would take.   
"I wanted to show up for women and girls," she said. "I wanted to speak out about women and their lack of access to sexual health and rights in a comprehensive way and in an environment where they could feel safe."  
After attending the 2019 Young Feminist Convening and meeting feminists from Nairobi, her own activism blossomed. She joined the Young Women's Leadership Institute, an AJWS grantee-partner, and quickly climbed the ranks to become executive director. The feminist center runs programs on sexual and reproductive health rights and justice, feminist leadership development, and feminist organizing.  
Shyleen has made it her personal mission to create spaces where young women and girls can heal, support, and celebrate each other. These include online platforms that enable grassroots organizing. Such spaces have become crucial, she said, as the political climate worsens at home. 
In Kenya, sexual and reproductive health and rights are under attack. Anti-rights activists and conservative church leaders have infiltrated public policy spaces and successfully lobbied to criminalize abortions and persecute the LGBTQIA+ community.  
"It is really disempowering to see how these groups have influenced the public perception on women's rights," the 30-year-old activist said. "Religion drives so many societal beliefs, and it continues to push for harmful ways of oppressing women. It's sad but society still does not want a very empowered woman, even in this century." 
Despite these challenges, giving up is not an option. As part of AJWS's cohort, she traveled to the Women Deliver conference in July with an important message for donors.  
"Funders really need to rethink how they support communities. Funding is given to national organizations to subgrant very little to local movements to do the work and provide reports. During conferences lots of donors commit to support grassroot organizations however the funds are not getting to the grassroots feminist organizations," she said. "We need access to direct funding to strengthen our own structures. We are already doing the hard work. Funders need to trust us, walk alongside us as we do this work, and support us."  
She also found inspiration in what she called the "radical energy" of the young activists talking about their work during the weeklong conference. Her hope is that their drive will one day lead to a world in which women and girls – in all their diversity – have agency over their bodies and their futures.   
"I want to live in a society where women and girls can make decisions about their bodies and are able to access services without discrimination and stigma," Shyleen said.