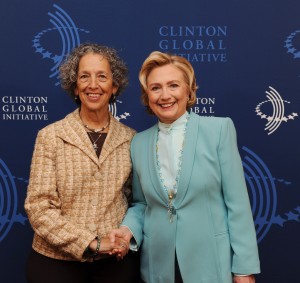 Last week, AJWS President Ruth Messinger attended the 2013 Clinton Global Initiative (CGI), which annually convenes global leaders to create and implement innovative solutions to the world's most pressing challenges. This prestigious event draws heads of state from around the world, along with Nobel Prize laureates and hundreds of major philanthropists and heads of foundations and NGOs.
Ruth, pictured to the right with Former Secretary of State Hillary Clinton, reflected on her experience at this year's event:
"The Clinton Global Initiative offers one highlight after another.  This year, there were some spectacular panels on the status of women and girls, on the challenges of land grabbing and on the importance of turning our beliefs and values into action.  As always, though, the most fun was simply in the opportunity to make new connections and work collaboratively with others."
Attending CGI is a valuable opportunity for AJWS and our partners, allowing us to deepen our relationships with activists and policymakers in pursuit of global justice. We are grateful to CGI and its visionary leadership. Learn more about CGI here.