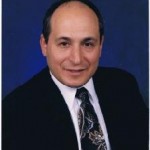 On April 28, 2007, a day after my 24th birthday, my father passed away after a six-month battle with brain cancer.
My father's recipe for living was tikkun olam, healing the world and working to leave it a better place than he found it—both professionally and personally. Following a family tradition, he became a physician. He truly embodied the image of the small town doctor who took care of all, regardless of background or circumstance. He cared about each and every one of his patients, and he always went out of his way to make sure they got exactly what they needed. This often meant making house calls, going head to head with insurance companies or lobbying to change hospital policy. He even stood on his head as a reward to a patient who quit smoking! In his own way, he strived to heal the world, one patient at a time. In his personal life, he was a very involved and loving father, husband, son, brother and friend. He always did his best for everyone who touched his life.

During my father's battle with cancer, I was living and working in China and frequently traveling back and forth to be with my family.  My father would always say, "China is your destiny. You must go back and follow your destiny." He was brave and courageous. His only concern was making sure that my mother, brothers and I would be taken care of in his absence.
After my father died, I wanted to do something that would carry on his name and attempt to encompass all of his values, beliefs and ethics. American Jewish World Service immediately came to mind as an organization that embodies all that my father believed in. After several meetings with AJWS, we established the Eric A. Shapiro, M.D. Memorial Fund. With the help of many generous donors, I raised more than $50,000 within six months! My goal was to be able to open the fund by the one-year anniversary of my father's death. I am beyond grateful and proud to say that I achieved my goal with the help of many, many people.
To raise more money for the fund, I decided to train for the NYC Marathon. My father and I always "wogged" (walked/jogged) together, so I felt running the marathon would be a fitting tribute. In 2011, I approached AJWS with the idea of getting involved with the NYC Marathon. Sadly, I was unable to actually run with the inaugural team. My running history reads somewhat like a Shakespearean tragedy; injuries kept me from running the last two NYC Marathons. But I will be running with Team AJWS this Sunday!
I've always loved running and dreamed of running the NYC Marathon. Many people have told me that I should just face the fact that my body is not "built" for distance running. I am short and curvy, and I do not have the "ideal" runner's body. But the beauty of running is that ANYONE who wants to run, can run. Runners come in all shapes and sizes and run at all different speeds.  I'm healthy and I'm determined. No injury or discouraging words will stop me.
In addition to being injury prone, I'm also a very slow runner, which used to make me very self-conscious. But, I realized, a runner is a runner, no matter how fast or slow. Running is incredible because it's a race with yourself and only against yourself, to finish the mileage that you set out to run. It takes determination and drive to keep taking one step after the other.
When I first started training and fundraising, I made a commitment and a promise—to all of my donors, my father and myself—to run the NYC marathon. I will keep that promise no matter how many tries it takes. I will continue to train hard, better and differently this time. I will cross that finish line and honor my father's memory.
This year, 2013, is the year! As my father and grandfather always said, "If at first you don't succeed, try, try again." I will keep trying until I succeed.
I'm also proud to say that my father's fund has surpassed $76,000! I'm so proud to be able to honor my father's memory through AJWS.
 ____________
Find more information on the Eric A. Shapiro, M.D. Memorial Fund here.  
Visit the AJWS Marathon Team page.