Will Nassau is a Senior Program Officer in AJWS's service department and oversees volunteer programs in India.
In last Tuesday's New York Times, David Brooks neatly balances a healthy cynicism for the "[m]any Americans going to the developing world to serve others" with the "smaller percentage" actually having some impact. Brooks describes three virtues necessary for these "rugged altruists" to be successful in catalyzing change: "courage," "deference" and "thanklessness."
In spite of language arguably lacking in its own deference (I cringe at what a human rights leader in the Global South might say of western "courage" and "thanklessness"), Brooks is on to something fundamentally important: creating impact requires principles for responsibly and effectively supporting  marginalized people in their own struggle to secure their human rights.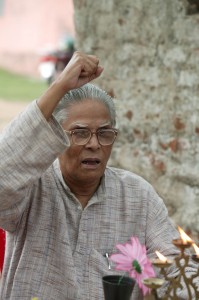 In working to build the capacity of grassroots NGOs in Asia, Africa and Latin America, AJWS's volunteers follow a set of guiding principles to move these rugged altruists beyond simply good intentions to being effective and responsible allies. These principles include knowing the local context, building relationships and, most of all, understanding one's role as a supporting character in the story of someone else's struggle.
Brooks gets at this when he talks about the importance of western volunteers "embrac[ing] the perspectives and do[ing] the jobs locals define." But he also misses an opportunity to embody that principle and write the real story of rugged altruism: the work of local civil society leaders whose lead international volunteers must follow.
AJWS takes this approach by organizing volunteer assignments that are NGO defined—assignments that have a greater chance of success because they respond to the needs and vision of local organizations and their communities as they identify those needs and that vision themselves.
In the same vein, we teach that service is about someone else's story. We remind volunteers that when they blog or write opinion pieces, representing local leaders as the key protagonists in the developing world's human rights narrative is not only more accurate, it is ultimately more inspiring. Brooks would do well to remember that for his next trip.