Jewish leaders, rabbis and educators reflect on their AJWS journey with Leibel
One full day after receiving the news of Leonard "Leibel" Fein's death, I am reflecting on the loss of this dear friend: a truly brilliant and moral man, and a profound Jewish voice for social justice in the 20th and 21st centuries. Many of us literally traveled the world with Leibel, just as we also joined him on a journey toward a fuller understanding of how to create a more just and equitable world and of our role as Jews in bringing it about. Given this journey, it feels natural to be sharing memories of Leibel in a "virtual shiva" today with so many friends and colleagues at AJWS and in other corners of the Jewish social justice universe.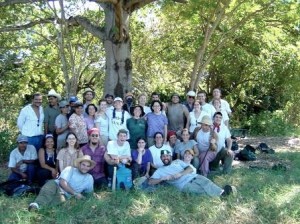 We were truly blessed that Leibel was the scholar-in-residence for AJWS's first Rabbinical Students' Delegation, a program that sent emerging Jewish rabbis and cantors on service-learning trips and inspired them to return to the U.S. to become vocal advocates for alleviating poverty and routing out injustice around the world. It was in January 2004 that Leibel joined 26 rabbinical students on a trip to El Salvador, and the students sought his guidance in merging their passion for Jewish text and tradition with their desire to become activists for human rights. Fein wrote emotionally about the trip in the Forward shortly after his return.
In the past 24 hours, I have received numerous notes of memory from former AJWS staff and Leibel's students from that AJWS journey a decade ago. Now established leaders, rabbis and educators, their recollections paint a portrait of a man who was driven both by his intellect and his heart; his commitment to Judaism and his commitment to ensuring that Jewish values served as a motivator for leaving the world better than we found it.
As we move toward Shabbat and a new year, let's take some of the sparks of inspiration that Leibel shared with us from his journey in life into the future.
Here are some recollections from participants in that momentous AJWS trip to El Salvador with Leibel:
Rabbi Stephanie Ruskay, formerly AJWS's Associate Director of Education and Outreach and now Director of Alumni and Community Engagement at AVODAH:
Ten years ago, when I worked at AJWS and we were launching the first Rabbinical Students' Delegation, we thought about who should be the first scholar-in-residence and we knew immediately that our dream "get" would be Leibel Fein. We had no idea if he'd ever accept.  We had no money to offer—just the opportunity to help shape the thinking of future rabbis. Ever ready for a new experience, he agreed.

On the plane Leibel didn't feel well, but he was determined: he had come to learn with us, teach us and write about us—and he wasn't going home without doing that. So he set up camp under a tree while we worked in the fields, and he talked with, listened to and taught anyone who wanted to speak with him (a memory that today keeps reminding me of Devorah the Prophet). He was available from early in the morning until late at night. And as all who knew him can imagine, he did not hesitate to tell us what was needed of us in the world and the types of rabbis he imagined we should become.

We loved him. This was exactly what we needed and wanted at that moment.  And he set the stage for the role that several members of the group have since gone on to fill. Like so many people in the Jewish Social Justice Movement, the AJWS rabbis who are out in the world advocating for global justice and bringing their communities along with them are doing their work, in large part, due to the teaching, agitating and encouraging that Leibel did on that trip—and beyond.
Rabbi Rachel Kahn-Troster, Director of Programs, T'ruah: The Rabbinic Call for Human Rights:
My trip to El Salvador with AJWS was a real catalyst for my rabbinic path and Leibel Fine was really at the heart of that trip. I remember sitting with him on the bus listening to him reminisce about his life and work, and becoming inspired to think differently about how to change both the Jewish community and the world.
 Rabbi Sam Feinsmith,Co-Director of the Center for Jewish Mindfulness in Chicago, and a Jewish studies instructor at Chicagoland Jewish High School:
During my service trip with AJWS in El Salvador, I encountered Leibel Fein as a larger-than-life personality commanding an air of moral authority that was not to be ignored or dismissed lightly. He taught us aspiring activists how to harness and operationalize the impulse for unrelenting justice as expressed by the Hebrew prophets.  His voice was a modern-day embodiment of justice flowing like a mighty stream.
Rabbi Mark Miller, Senior Rabbi of Temple Beth El in Bloomfield Hills, Michigan:
Before meeting him, I assumed Leibel Fein was words and thoughts and moral authority and trenchant commentary. But after seven days in El Salvador, I realized that he was full of heart and that he wore his soul on his sleeve—traits that, as he demonstrated, are vital to Jewish leadership.
Rabbi Laurie Matzkin, Associate Rabbi, Director of Lifelong Learning at Congregation Kol Emeth, in Palo Alto, California:
Leibel's passion for justice for all humanity was evident on our trip to El Salvador. His caring for both the local population and for our pluralistic group of rabbinical students helped sew together a theme of compassionate listening and working toward the common good.
 Rabbi Julie Roth, Executive Director of the Princeton Center for Jewish Life, Hillel, at Princeton Universit:y
It was an honor and an inspiration to study with Leonard Fine, a true luminary of our time. Living together in La Ciudad Romero, El Salvador, had its gritty, comical moments, as well. Together, we opened our hearts to global poverty and imagined how the example set by the founder of MAZON challenged us to redefine Jewish responses to hunger.
In his article in the Forward about this trip, Fein said: "[The participants] are seized by the organic relationship between the Jewish tradition—our texts, our history—and the pursuit of justice."
Leibel Fein lived and breathed this duality every day and transmitted it to all who were lucky enough to have been inspired by his teaching, his writing and his presence. I speak on behalf of the entire AJWS community: we will miss him deeply and will continue to strive to make the world a better place, in his memory.
Ruth Messinger is president of American Jewish World Service.