"Because I remember, I despair. Because I remember, I have the duty to reject despair."
These profound words are those of Elie Wiesel, the Holocaust survivor, Nobel Laureate, author, and founding board member of American Jewish World Service (AJWS), who died on Saturday at age 87.
Over the past few days, I've been thinking constantly about both Wiesel's legacy and his influence on me.
I've been haunted by my memories of reading Night, Wiesel's memoir and meditation on his time at Auschwitz, as a child in South Africa. The combination of the horrors that Wiesel describes combined with the horrors I saw around me in a racist regime were instrumental in shaping my lifelong commitment to fighting for equality and dignity for all.
Wiesel was a tireless advocate for the memory of the six million Jews murdered during the Holocaust, who also understood that the Jewish experience of genocide and oppression compels Jews and others to advocate for the rights and dignity of people all over the world. As he once wrote, "Human suffering anywhere concerns men and women everywhere."
Back in 1985, when asked to lend AJWS his moral authority by joining its board, Wiesel immediately understood the value in founding a Jewish organization that would fight for justice and dignity for people of diverse backgrounds worldwide. Twenty-one years later, he joined us on the National Mall in Washington, D.C. when AJWS organized a rally to end the genocide in Darfur. And today, his moral and intellectual DNA continues to shape our organization and work, as we stand up proudly as American Jews for the rights of some of the most oppressed people in the world.
May Elie Wiesel's memory serve as a continual call to remember the past, stand up against injustice today, and shape a just world in which the human dignity of every person is a lived reality for all—today, tomorrow and for generations to come.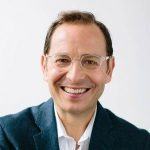 Robert Bank is President and CEO of American Jewish World Service (AJWS), the world's leading Jewish organization working to end poverty and promote human rights in the developing world.