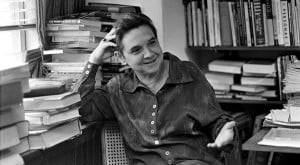 The decision to feed the world
is the real decision. No revolution
has chosen it. For that choice requires
that women shall be free.
—Adrienne Rich, "Hunger"
When I learned last week that Adrienne Rich had passed away, I immediately pulled two of her books off my shelf and re-read my favorite poems: Integrity, Ballad of the Poverties, Hunger, What is Possible, What Kind of Times Are These? Then I read tributes to her life and legacy, posted by friends, colleagues and strangers, along with hundreds of comments on her obituary in The New York Times.
Rich was a social justice giant. She argued for art as a human right and wrote about oppression, poverty, relationships, love and power like no one else. Anchored by so many intersecting identities—feminist, poet, activist, lesbian, Jew—she left an indelible mark on the world, and continues to have a powerful influence on my life.
Shortly after 9/11, I was fortunate to hear Adrienne Rich read her poetry in person when she visited my college. From the balcony of a packed auditorium, I remember hearing her say, "The light of outrage is the light of history, springing upon us when we're least prepared."
I was struck by her grace, clarity of purpose, quiet power and her fierce commitment to the truth. So, I began a tradition of reading her poem "Yom Kippur 1984" each year on Yom Kippur. "What is a Jew in solitude?" Rich wrote. "What would it mean not to feel lonely or afraid / far from your own or those you have called your own?"
More than once, I've thought about Adrienne Rich in the context of AJWS; the way she wrestled with the complexity of Jewish experience; how she used language to call attention to the world's brokenness and beauty; the ways she challenged society to sharpen its moral compass; how she expressed unshakable conviction that a better world was possible. In the last stanza of "Dreams Before Waking," she put forth a simple but powerful call:
What would it mean to live
in a city whose people were changing
each other's despair into hope?
You yourself must change it.
What would it feel like to know
your country was changing?
You yourself must change it.
Though your life felt arduous
new and unmapped and strange
What would it mean to stand on the first
page of the end of despair?
With Passover right around the corner, many Jews are readying themselves—spiritually, physically or poetically—to "stand on the first page of the end of despair." Adrienne Rich already has a place in my Yom Kippur observance, so I've decided to integrate her wisdom into my Passover Seder, too.
These words seem most fitting:
Freedom. It isn't once, to walk out
under the Milky Way, feeling the rivers
of light, the fields of dark—
freedom is daily, prose-bound, routine
remembering. Putting together, inch by inch
the starry worlds. From all the lost collections.
—"For Memory," A Wild Patience Has Taken Me This Far
I am grateful for this reminder.