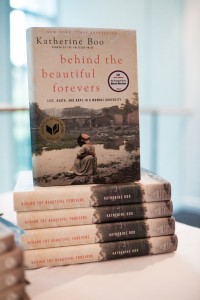 I was drawn to Behind the Beautiful Forevers by Pulitzer Prize-winning author and journalist, Katherine Boo, when it first appeared in 2012. Boo's raw and vivid portrait of life in an Indian slum is 100 percent nonfiction, yet it reads like a novel. This past summer I returned to Boo's book and was newly impressed by the candor and honesty of her writing. Her words shed light on the crucial human rights issues that American Jewish World Service's grantees confront every day. And just a few weeks ago I was delighted to be in conversation with Katherine Boo to discuss the challenges facing India's 68 million slum dwellers. Forty-two percent of India's 1.2 billion people live below the international poverty line, earning less than $1.25 per day. Many of these people go unnoticed by our global community, and they are in dire need of our attention.
Set in Annawadi, a slum of Mumbai, Boo's book brings us to an under city in the shadow of India's staggering economic growth, which has only widened the gap between the rich and the poor. Boo introduces us to individuals whose stories are impossible to forget—like Fatima or "One Leg" and her fury at not being recognized as a human being, rather than a cripple. There's also Abdul, the teenage garbage picker, who struggles to find justice within the corrupt judicial system after he's falsely accused of causing Fatima's death. In these and other characters, Boo has given us a window into a world we might never have seen otherwise, and underscores why AJWS's work in India is critically important.
AJWS currently makes grants to 32 extraordinary grassroots organizations in India that are striving to build strong movements for human rights. We have worked in India since 1998 and are now focused on two of the most pressing issues facing the country's poorest and most oppressed populations today: human rights abuse against women, girls, sexual minorities and sex workers; and the struggle for land, food, water and resources critical for the survival of poor and marginalized communities. As India's grassroots activists mobilize and organize to effect change on these critical issues, AJWS is by their side, providing solidarity, financial support and an unwavering commitment to change
One organization we support—Kislay—advocates for the rights of Delhi's evicted slum dwellers, organizing people to demand that the government provide them with adequate housing, a better food distribution system and basic services. By empowering slum dwellers to organize and advocate for themselves, Kislay has given many of these people hope. Instead of viewing themselves as powerless victims, slum dwellers begin to see themselves as leaders and change-makers.
In 2011, the organization and its allies achieved a groundbreaking victory when their advocacy to Parliament and a massive letter-writing campaign resulted in the government drafting a bill called the "Property Right to Slum-Dwellers Act." The new law grants slum residents ownership of the slums (previously they were considered tenants on government-owned land) and dictates that if the land is ever redeveloped, the inhabitants must be offered alternate housing within the center of the city. As a result of this legislation, the demolition of several slums has stopped and the redevelopment of several slum areas has started to occur.
Learn more about AJWS's work in India by reading our India country profile and check out the photos from our event below.