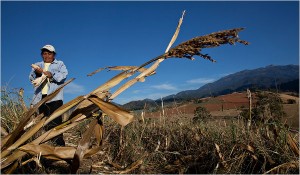 Pepsi is doing something good for Mexican farmers, and it's more than just a PR stunt masquerading as corporate social responsibility.
It's a new partnership with social benefits and an economic gain. The New York Times reports that in San Gabriel, Mexico, 300 local corn farmers are no longer selling their corn to middlemen but directly to PepsiCo, which guarantees the price it will pay for their crops upfront. The deal enables these farmers to secure credit to buy seeds and fertilizers, crop insurance and equipment.
Some quotes from a few of the farmers themselves:
"Some of us used to go north to work to make money to pay off debts, but no longer," said Martín Ramos Torres, a farmer, adding that at least two members of the cooperative he leads had been caught by United States border patrol agents and deported. "In just three years, everything has changed." "Before, I had to sell my cow to buy what I needed," said José Guzmán Santana, another farmer selling to Pepsi.
"Now I keep the cow and my family has milk while I grow my crop."
Pepsi's work with these farmers reflects a relatively new approach by corporations trying to transform their image by helping out small communities. But is there a business gain for Pepsi, too? You bet. Begun as a pilot project by the foundation affiliated with the company's Sabritas snack foods division, it is expanding to about 850 farmers to develop a local source of sunflower oil, which the company needs to improve the nutritional quality of its products. The project has also saved PepsiCo transportation costs because the farms were close to two of its factories, and the use of local farms assured the company access to types of corn best suited to its products and processes. "That gives us great leverage because corn prices don't fluctuate so much, but transportation costs do," said Pedro Padierna, president of PepsiCo's operations in Mexico, Central America and the Caribbean. And there are more gains for the famers, too – income generation, better productivity, and more.