Over the past week, the search for more than 250 girls abducted from a school in northern Nigeria has intensified. The U.S. and other countries are now assisting the Nigerian government in an effort to quickly locate the girls and their captors, the Islamic militant group Boko Haram.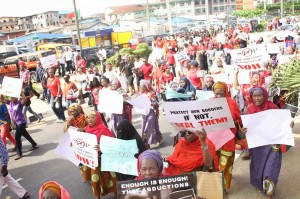 International media and U.S. activists and politicians have continued to focus attention on the story, particularly after the Monday release of a video showing the girls in captivity. In addition to repeated calls for the girls' freedom, the story has sparked debate about a spectrum of problems facing Nigeria and how foreign countries should (or should not) assist in counter-terrorism efforts there.
In recent years,  oil production and commercial activity in cities like Lagos have made Nigeria the largest economy in Africa. However, the gap between rich and poor has grown at the same time—and many people struggle to go to school or to earn a living, particularly in the northern areas where Boko Haram operates. In some villages, citizens have started to fight back against Boko Haram's attacks.
The country's inequality could be seen last week, when the World Economic Forum brought hundreds of elites to Nigeria's capital, Abuja. The government deployed 6,000 security officers to protect event attendees. As reporters Lauren Bohn and Chika Oduah noted, this was an "effort that many Nigerians half-joked, half-lamented would never be made to protect ordinary Nigerians, nor to retrieve the Chibok schoolgirls."
Last Wednesday, U.S. Secretary of Defense Chuck Hagel announced that the U.S. has deployed surveillance drones to search for the missing girls. Some people have raised questions about how far the U.S. should go in its efforts to find the girls and counter Boko Haram terrorism in Nigeria; others, including Sen. John McCain, have gone as far as suggesting that the U.S. should rescue the girls even "without permission of the host country." (McCain added, "I wouldn't be waiting for some kind of permission from some guy named Goodluck Jonathan." Jonathan is the president of Nigeria.)
Global Voices provided an initial update on this story a week ago, featuring perspectives from one of our allies in Nigeria. Read on for additional Q&A with AJWS allies in Nigeria, including: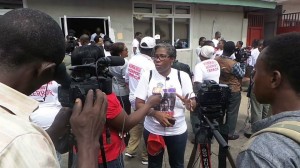 These NGOs have responded to the girls' kidnapping in multiple ways, from launching social media campaigns to participating in protests and petitions that demand government action to find the girls and halt terrorism in Nigeria.
…
AJWS: What should people know about Boko Haram and its impact on life in northern Nigeria?
Princess: There is a storm of insecurity hovering around the entire nation. It can be anyone's children or boarding school. Boys were burnt in their sleep [in one school]. Bombings are happening in public places. The fear of it crossing down south is very imminent.
Olayide: Boko Haram promotes an ideology that forbids Western [secular] education and seeks to establish Islamic rule … Apart from growing fears of insecurity in the land, it has also deepened the ethnic mistrust and has polarized the relations between people in the northern and southern parts of the country. Prior to now, Christians and Muslims co-existed peacefully and there was limited rancor between them. Now, the mutual suspicion continues to grow … Development interventions in these locations [where Boko Haram operates] are also being reconsidered, given the spate of insecurity and violence in these regions. This will definitely increase the levels of disparity between these affected states and other parts of the country, as undeserved communities (women, children, elderly) will ultimately bear the brunt.
Victoria: [This abduction is] the latest in a series of wanton killings of school children and forced disappearances of young girls in the conflict-ridden northeastern region of Nigeria, which has been locked in deadly conflicts and religious extremism for almost 5 years. The governors of the three crisis-torn states have reacted to the mass killings and abductions by ordering the immediate closure of all schools in those states … Nigeria has many Malala Yousafzais waiting to tell the stories of their strong determination to overcome this Taliban-style crackdown on education.
#Malala says Boko Haram ought to study the religion they claim to support: http://t.co/ksrGz3vcKI #BringBackOurGirls pic.twitter.com/66yXwDQpQg — Christiane Amanpour (@camanpour) May 8, 2014
AJWS: In your view, why did the Nigerian government take little initiative to find the girls just after the abduction?
Princess: Not much was done immediately after the attacks, and the lack of empathy on the side of our president and lawmakers was very pathetic.  Soon after the abduction, a military report indicated the girls had been found. This turned out to be a false alarm. That obviously put the government in an awkward position. Obviously something just didn't add up.
AJWS: What do you think about the U.S. response to the situation so far?
Olayide: The outcry and show of solidarity by the U.S. and its citizens in lending their voices to the  Bring Back Our Girls campaign is highly commendable and has also helped mobilize international support and also put pressure on the Nigerian Government to do more … However, there are concerns about the implications of the U.S. military interventions for Nigeria's national security and sovereignty, given lessons [learned] from [U.S.] interventions in other countries.
Victoria: Despite growing concerns about the implications of external military operations on national sovereignty, we are of the view that the military support provided by these countries [U.S., United Kingdom and France] will contribute … advanced military technology and platforms for intelligence and communications.
Princess: It is okay so far. Some troops have been sent in. How much of internal affairs we want to expose [to external decision-makers] becomes a concern. However, I am not a security intelligence officer … Also, we do not have many details on what assistance is being offered.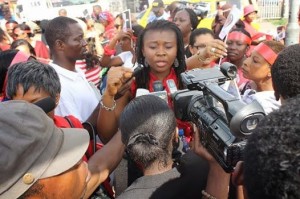 AJWS: Do you think there's anything else that people and NGOs in the U.S. should do to help?
Victoria: Nigerians are thankful to the people and NGOs in the U.S and around the world for showing unprecedented solidarity with Nigerians at this difficult time. Very loudly and very clearly, they have unanimously lent their voices to the global demand to #BringBackOurGirls. It is important for the people and NGOs in the U.S. to sustain their intensive reporting and analysis of the security crisis in Nigeria—and also continue to support … Nigerian organizations to investigate, document and expose the deadly activities of the insurgent groups and other human rights violations in the region.
Olayide: Support local NGO initiatives aimed at providing education, psychosocial support and health services to affected individuals and communities … Support initiatives aimed at strengthening local media capacity for balanced information sharing that will not polarize the country or incite ethnic or religious conflicts.
AJWS: What should be done in the future, to stop this kind of abduction from happening again?
Olayide: In the future, proactive, responsive and adequate security measures should be put in place in schools and other key institutions being targeted by the terrorist groups. Students, community groups and other key stakeholders should also be equipped with skills and basic information in security consciousness, self-defense, etc. There is also a need to build trust between security agents and communities to foster information sharing. Communities also need to create platforms to discuss the deep-rooted ethnic and religious biases and agree on community-owned solutions to address these challenges.
…
Elizabeth Daube manages the story bank at American Jewish World Service. Opinions contained in this post do not necessarily represent the policies or perspectives of American Jewish World Service.