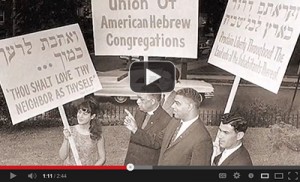 It's no secret that American Jews have a rich legacy of involvement in American social movements—the labor movement, the civil rights movement, women's liberation, LGBT rights and immigration reform, to name just a few.
That's why we're so moved by this powerful new video, Hineni, created by our friends and colleagues at the Jewish Social Justice Roundtable. Built around a moving speech by President Obama, this video chronicles how American Jews have played key roles in the arc of social change. As President Obama notes, American Jews have "made a difference on so many of the defining issues of the last half century. The world's a better place for it."
The video features AJWS President Ruth Messinger, along with many other familiar Jewish leaders. Take a look!
And if you missed Ruth's op-ed about the 50th anniversary of the March on Washington, check it out here. How will you carry this work forward in the new year?