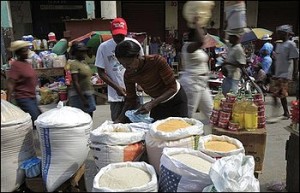 With the one-year anniversary of the Haiti earthquake fast-approaching, many are wondering just how much progress has been made over the past 12 months and what kind of change the future holds for Haitian people. Congress has still not passed the Haiti Empowerment, Assistance and Rebuilding (HEAR) Act that would create a clear framework for reconstruction and authorize the multi-year funding needed to rebuild Haiti sustainably.
Just last week the Robert F. Kennedy Center for Justice & Human Rights—in partnership with Partners In Health and Zanmi Lasante—released a report about the right to food in Haiti: "Sak Vid Pa Kanpe: The Impact of U.S. Food Aid on Human Rights in Haiti." The title of this report draws on a Haitian proverb which laments that a sack cannot stand if it is
empty—a powerful metaphor for the importance of food and sustenance to one's capacity to "stand" and function. Living in the most impoverished nation in the Western Hemisphere, Haitian people know all too well how vital access to food is to their daily survival. Yet many Haitians have also experienced the unintended negative consequences of U.S. food aid programs. While these programs often help people in times of crisis, many also run afoul of the human right to food by undermining the local economy, eroding agricultural self-reliance, and failing to include Haitians in their design and implementation.
Even prior to the January 12, 2010 earthquake, Haiti was a major recipient
of U.S. food aid, ranking in the top ten of all receiving countries. By 2008, local production of food amounted to only 42 percent of Haiti's food consumption, compared to 80 percent in 1986. A full 52 percent of Haiti's food consumption came from commercial importation (including large amounts of U.S.-subsidized food exports) and six percent in the form of food aid. Seventy-one percent of Haiti's food aid.
The new report aligns with AJWS's vision for global food security and in helping Haiti to become a food sovereign country:
"… The realization of the right to food requires more than temporary alleviation of hunger. Under international law, food must be economically and physically accessible; adequate in quantity, quality, and nutrition; culturally acceptable, available; and sustainable. Thought well intentioned, food aid provided by the United States and other bilateral nations does not always respect these standards. To respect the right to food, donors should adopt both long and short-term solutions to food insecurity and hunger, facilitating country ownership of food production, while adequately responding to immediate needs."
The following recommendations (described in greater detail in the full report) urge U.S. policy leaders to:
Untie food aid and increase local and regional purchase in Haiti
End monetization by eliminating permissions to monetize U.S. commodities
Fully comply with international agreements on aid effectiveness
Ensure meaningful participation of Haitians in all U.S. assistance programs to Haiti
These are important recommendations and it is essential for us to continue to put pressure on Congress to pass the HEAR Act. Please urge your representative to support rebuilding Haiti by passing this piece of legislation. Haiti needs a smart, long-term plan with robust multi-year funding to build a brighter future.