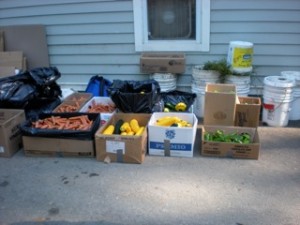 Originally posted on the Pursue blog.
You know those cornucopia cartoons that pop up everywhere around Thanksgiving? The ones in which the fresh produce practically bursts out of the horn? I've never seen a cornucopia in real life, but now I've seen the modern day iteration and…it…is…good! A week ago Sunday my car was overwhelmed with fresh veggies– bags and bags of emerald kale, hundreds of bright yellow squash, boxes upon boxes of carrots, and a nice carton of green peppers to round it all out.
I had just spent the day harvesting the last of summer's bounty at the Adamah farm at Isabella Freedman Retreat Center as part of Pursue's Fun Day in the Sun Day. Fifteen Pursuers participated in the program, co-sponsored by Hazon and facilitated by the Adamah family. We toiled in the Jewish spirit of gleaning—gathering a portion of the harvest to feed the hungry. By the end of the day we were hot, sweaty, tired…and totally exhilarated. Smiles all around.
With my car bursting at the steel seams with colorful produce, we drove home to Brooklyn, where the Bowery Mission van awaited our arrival. Five friendly volunteers, led by the indefatigable Clyde Edey, carefully transferred the veggies from my car to their van. The next day, it was off to Bowery Mission where Chef Trevor Mathura sauteed the squash and kale with lemon and butter for the soup kitchen, while the peppers and carrots went to the street outreach program, which feeds the homeless. All in all, about 600 men and women got to enjoy the fresh, local, organic Adamah veggies.
It's a tough time for soup kitchens and food pantries. Albany's delay in passing a budget froze New York State funds, while the end of the federal stimulus funds means that TEFAP, the USDA's commodity program, has shrunk drastically. All this translates to far less food for soup kitchens, shelters, and food pantries.
With Bowery Mission's soup kitchen providing approximately 23,000 meals in an average month, any contribution would have been appreciated. This one was both appreciated and savored. Thanks to Pursue, Adamah, Hazon, City Harvest, and the Bowery Mission for making it possible.