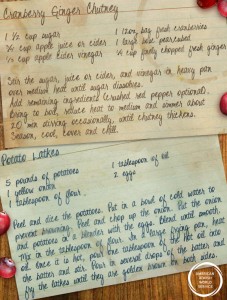 Lately, no matter where I am—conferences, meetings, board rooms—American Jews are buzzing about Thanksgivukah, the concurrent celebration of Thanksgiving and Chanukah on November 28, 2013.
These two holidays have overlapped only once before, in 1888. And, according to calculations by Jonathan Mizrahi, a quantum physicist at the Sandia National Laboratories in New Mexico, this Thanksgivukah miracle won't happen again until 2070 and then again in 2165. After that, Chanukah and Thanksgiving aren't set to coincide until 76,695!
Food and gratitude are at the center of my Thanksgiving and Chanukah celebrations. So, it will come as no surprise that I'm eagerly awaiting the convergence of two culinary traditions.
So, as you prepare your own Thanksgivukah menu, I wanted to share my recipe for cranberry-lathered latkes—a mash-up of two signature dishes that will be front and center at my holiday table.
Cranberry-Lathered Latkes:
Step 1: Cranberry Ginger Chutney
My take on the traditional cranberry sauce served with Thanksgiving dinner.
1 ½ cup sugar
¾ cup apple juice or cider
1/3 cup apple cider vinegar
1 12 oz bag fresh cranberries
1 large bosc pear, peeled, halved, cored and cut into ½ inch cubes
¼ cup finely chopped peeled fresh ginger
– Stir the sugar, juice or cider, and vinegar in heavy pan over medium heat until sugar dissolves.
– Add remaining ingredients [1/4 teaspoon crushed red pepper optional].
– Bring to boil, reduce heat to medium and simmer about 20 min stirring occasionally, until chutney thickens.
– Season, cool, cover and chill.
Step 2: Potato Latkes
A Chanukah tradition!
5 pounds of potatoes
1 yellow onion
1 tablespoon of flour
1 tablespoon of oil
2 eggs
– Peel the potatoes and dice them. Put them in a bowl of cold water to prevent from browning.
– Peel and chop up the onion.
– Put the onion and potatoes in a blender with the eggs (alternative: you can also shred them instead of blending).
– Blend until smooth.
– Mix in the tablespoon of flour.
– In a large frying pan, heat oil. Once it is hot, pour one tablespoon of the hot oil into the batter and stir.
– Pour in several drops of the batter and fry the latkes until they are golden brown on both sides.
– Serve with the chutney. 
Ruth Messinger is president of American Jewish World Service.