You, the members of the AJWS community, are some of my favorite thought partners, and each summer I enjoy sharing with you my reading recommendations. Here are some of the books I've recently found most compelling:
One of the most powerful novels I read this year, or ever, is about the horrors of racism in America—Colson Whitehead's The Nickel Boys, based on a true story of dozens of young Black men who were abused and killed at a Whitehead's rhythmic writing engulfed me—I was fighting for the hero to escape his fate on every page and read the book in just a few sittings. Besides the heart-wrenching pain, there are also moments of sheer joy in the book. The story traverses decades and follows the hero's life as he works to recover from the trauma of his youth. Later in his life, the hero draws us into his feelings in the midst of the New York City marathon—that one day when he, together with millions of others, feels fully alive, elated and connected because of the density and diversity of New York City—a stark comparison to the claustrophobia of his cramped reformatory school dormitory. You will never forget this book.
While in New Dehli this past February, I read a brilliant review of Deepa Anappara's debut novel, Djin Patrol on the Purple Line. I was in India to visit AJWS's inspiring activists who are fighting to end the violence of early, forced marriage. Intrigued by the review, I read Anappara's novel, which is told through the eyes of Indian children who are stolen, and offers a gritty view of a world in which poor children are utterly on their own and yet resourceful and resilient. Remember to refer to the glossary at the back of the book—it's a great lesson in Hindi slang expressions that I'm looking forward to using on my next trip to India, whenever I'm fortunate enough to travel there again.
Speaking of stories of resilient people, Ocean Vuong's debut novel, On Earth, We Are Briefly Gorgeous is a breathtaking love letter from the 31-year-old author, a gay Vietnamese-American poet, to his immigrant mother, who does not speak English. Vuong has a unique use of language that is both sensual and searing, and Vuong describes his single mother who ekes out a living doing manicures and pedicures, his summers working on a tobacco farm where he meets his first unlikely lover, and the pain of coming out to his mother in a Dunkin' Donuts—a multi-layered life if there ever was one. Treat yourself by listening to his poetic interview with Krista Tippet on On Being, her NPR radio show.
From the challenges of Vuong's life, I entered the depths of a contemporary hell on earth in Mayuu Ali's Exodus—Between Genocide and Me, a collection of poems inspired by the spilled blood and pain of his people. Not yet 30, Ali is a Rohingya Muslim who grew up in Rakhine state in Western Burma. He is now among the Rohingya living in exile in Bangladesh, in the largest refugee camp in the world, driven from their homes by the murderous Burmese military. Ali's remarkable short book of brutal poems can be read in less than 20 minutes. Its brevity is its power: a call to the world to not have this genocide go unanswered. In his poems, Ali has the final word, and their power is uncontested.
Poetry also plays a central role in in Amor Towles's second novel, A Gentleman in Moscow. In sharp contrast to Ali's book, Towles offers us a fanciful escape during our own time of quarantine. The book's hero, Count Rostov, an aristocrat, was placed under house arrest by the young Bolshevik government in 1922 for a poem he had written that was considered a threat to the state. Rostov is sentenced to living for decades in an attic room at the Metropol, a luxury hotel in Moscow, while having full access to the hotel's many splendid amenities. This is by far the longest book on my list, but getting to the very end is well worth it. There is a delicious twist that kept me smiling for days.
Where one is born and how that impacts our lives has always been a subject of fascination for me, especially as it relates to South Africa, where I was born. Terry Kurgan's Everyone is Present tells the story of her Polish Jewish family that immigrates to South Africa through the diary and photographs of her grandfather Jasek, who fled his home town Bielsko-Biala (a 38-minute drive from what would become Auschwitz) on September 1, 1939. The book would be engrossing enough if it were just a memoir recounting Kurgan's family's flight from Nazism through Romania, Turkey, Syria, Iraq, India and Kenya, with a final landing point of Cape Town. But Kurgan, an artist, writer and dear friend who has long used photography as an invitation to understand untold stories and human psychology, has created a tour de force. I will never look at family snapshots in quite the same way after reading Kurgan's latest book.
I've been reading a lot during COVID times and it's given me sorely needed perspective, an opportunity to escape from the headlines from time to time, and permission to travel the world—if not literally, then through the brilliant imaginations of others. Let me know what you've been reading and listening to. I'm starting my fall list! Write to me at robertbank@ajws.org.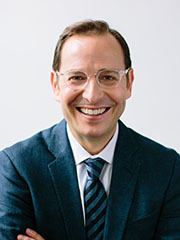 Robert Bank is President and CEO of American Jewish World Service, the leading Jewish organization working to promote human rights in the developing world. Robert has spent his career championing human rights as an attorney, activist and leader. He joined AJWS as Executive Vice President in 2009 and previously served in New York's municipal government and in the leadership of GMHC—one of the world's leading organizations combatting HIV/AIDS. Robert has been honored with GMHC's Lifetime Achievement Award and the Partners in Justice Award from AVODAH: The Jewish Service Corps.